William and Ann Oppenhimer
Printer-friendly version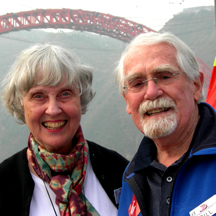 WILLIAM OPPENHIMER is a retired obstetrician/gynecologist and a member of the FASA Board of Directors.
ANN OPPENHIMER is the interim director of the Folk Art Society of America
Mission Statement
The Folk Art Society of America, founded in 1987, is a nonprofit organization that advocates the documentation, preservation and exhibition of folk art, folk artists and folk art environments, with an emphasis on the contemporary. We publish The Folk Art Messenger free to members, and produce an annual Conference with symposia, special exhibitions and an auction. Our online Calendar lists current, upcoming and ongoing folk-art-related events and exhibitions.