[#77] Vol. 22, No. 2, Fall/Winter 2010/2011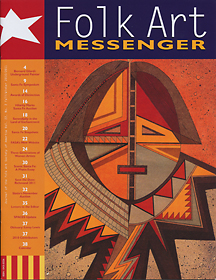 "Message from the President"
"Bernard Gilardi: Underground Painter" by Jeffrey Hayes
"Santa Fe Symposium: Native American and Hispanic Art and Artists" by Margaret Browne
"Awards of Distinction Presented in Santa Fe" by Ann Oppenhimer
"Hilarity Marks Santa Fe Auction" by Ann Oppenhimer
"Serendipity in the Land of Enchantment" by Victor Weisskopf
"Santa Fe Snapshots"
"FASA's New Website Opens for Business" by Katharine Gates
"In the Spirit of Tradition: Three Generations of Women Artists" by Tony Gengarelly
"Scenic Santa Fe: A Photo Essay" by Evengeline Englert
"Save the Date: Richmond Conference 2011"
"Slotin's November Auction: One Big Surprise and More Mixed Results" by Lynne Browne
"Letters to the Editor"
"SPACES Update" by Jo Farb Hernandez
"Obituary: Leroy Lewis, 1949-2010" by Adrian Swain
"2010 Contributors"
"Calendar of Exhibitions"