Robots, Funky Jugs, Mechanical Marvels
Photographs by Ann Oppenhimer
In 1975, I went on an expedition to visit The Wonders of the World Museum in Port Costa, Calif., some 30 miles north of San Francisco. When I pulled off a winding country road and into a driveway flanked by ceramic Demon dogs, a space ship and a row of Studebaker cars, I was greeted by a fellow in a white lab coat, wearing a pith helmet. He shouted at me in a carney barker's voice – "Welcome, would you like to see the amazing Cyclops and the skeletal remains of a Bigfoot from the Pre-Creduious Period, whose special feature is not only his size, but his U-shaped, retractable penis." That voice belonged to the world-famous ceramist Clayton Bailey, aka Dr. George Gladstone, who died at hospice on June 6, 2020, as the result of a stroke he had suffered in 2019.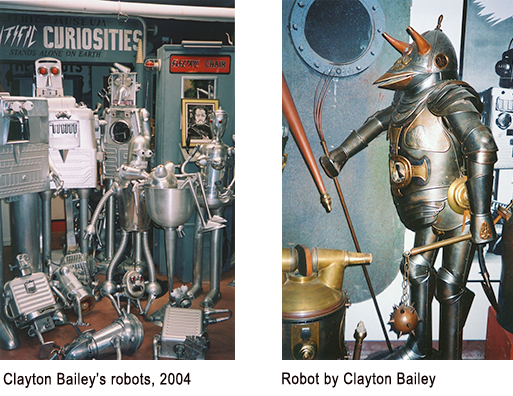 Bailey left an enviable legacy of curiosity and humor, mixed with a high level of skill in the execution of ceramic and constructed pieces that ranged from gargoyles to bubbling brains in a bowl to snake oil jugs to working, life-sized robots. These pieces and many more were laid out for all to see in his home museum/studio and back yard. Some were his versions of carnival gaffs, like the two-headed robot and the Creature That Came From a Bucket of Mud, while others reflected his collector's taste in robot and space toys and Mad Magazine-inspired monsters.
Bailey was born in Antigo, Wis., March 9, 1939, the son of an auto mechanic and a homemaker. At Antigo High School, he and Betty Graven were elected King and Queen of the Prom, and they were together ever since, marrying a few years later. He entered the University of Wisconsin, intending to be a pharmacist and received a B.S. degree, but went back to earn a master's degree in art and art education in 1962. He was an artist-in-residence at the Kohler Company in Sheboygan, Wis., where, among other things, he made a life-sized toilet bowl-shaped teapot. He also met the famed collector and builder of the House on the Rock, Alex Johnson, who gave him his first ceramic exhibition, held at the fabled residence.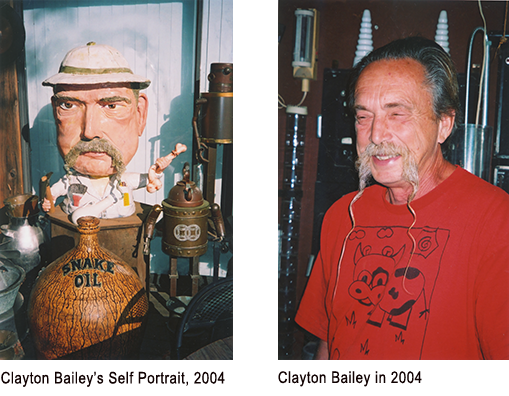 When he and his wife Betty moved to California with their two children, he worked at U.C. Davis as a part-time replacement for Robert Arneson, and there met Roy De Forest, Wayne Thiebaud and other artists. In 1968, he applied for a job as a day laborer on registration day at Cal State Hayward and was hired on-the-spot to teach ceramics, which he did until he was granted tenure in 1970. There, he met up with future members of the California Funk movement, including Arneson and David Gilhooly. Around this time, Bailey also showed some of his work at a Folsom, Calif., gallery, The Candy Store, whose stable included Chicago Imagist painters Jim Nutt and Gladys Nilsson, as well as the drawings of Joseph Yoakum. Bailey was well-aware of outsider environments and the work of self-taught artists. This included the work of his hero, "The Mad Potter of Biloxi," George Orr. He continued to teach ceramics at Cal State Hayward (now Cal State East Bay) until he retired in 1996, serving as head of the art department for three years.
Bailey even took on a special look, growing a mustache that was 25 inches long and winning a prize for the longest mustache in the United States in the Bull Run Mustache Contest, which he had read about in his favorite magazine, the National Inquirer. He became interested in making face jugs caricatures. In 1993, I curated a show of his take on the field, alongside some of the Southern masters of this genre at the San Francisco Craft and Folk Art Museum.
In mid-career, Bailey began to build robots out of coffee pots, brake pedals, vacuum parts and discarded home appliances. He engineered more than 25 life-sized versions, including one that was R-rated that he called Marilyn Monrobt. His robots gained so much attention that an exhibition of them traveled to Japan. His coin-operated Electric Chair Robot opened many exhibitions of his work and was guaranteed to "shock people."
By the end of his career, he had had more than 30 solo shows, many group exhibitions, and his work was in the collection of at least 60 museums, including the DeYoung Museum, the San Francisco Museum of Modern Art, the Oakland Museum of California, the Renwick/Smithsonian in Washington, D.C, and the Valentin-Karlstadt in Munich.
In 2004, the Folk Art Society of America visited the Port Costa studio and home of Clayton and Betty Bailey during the Oakland conference. Betty died in 2019, and the Baileys are survived by their children, Robin Bailey Liebes and Kurt Bailey. and two granddaughters.
Clayton Bailey lived an inspired and an inspiring life – not bad for an artist who once said of his work, "It's the kind of art I enjoy, so beware."
JOHN TURNER, from Berkeley, Calif., is an artist, writer, world traveler, a retired arts producer for KGO-TV in San Francisco, and a former curator at the San Francisco Craft and Folk Art Museum.