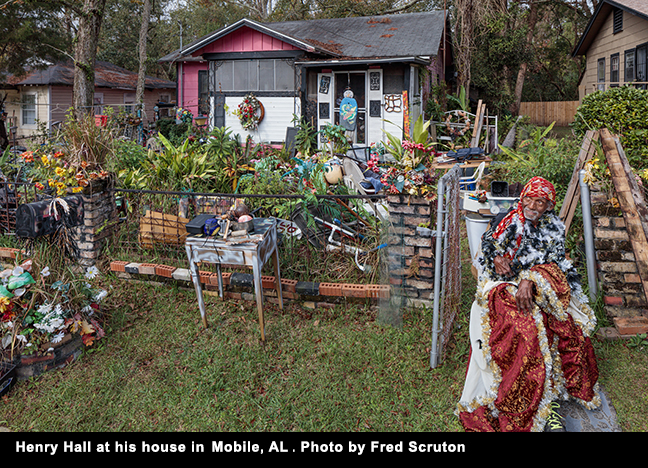 Text and all photographs by Fred Scruton
Pre-pandemic, the annual Mardi Gras festivities in Mobile, Ala., drew hundreds of thousands of revelers. This year, curtailed attendance and canceled parades inspired a "Yardi Gras" of several hundred homes and businesses adorned with float-spirited decorations. The maps for Mobile's "Porch Parade" could have included Henry Hall's year-round "Pink House" on Cone Street: as if it's a stranded parade float that broke off long ago, Henry's home and property are covered with bright colors, flowers, strings of beads, and decorative found object assemblages. And, as if he were being towed along a spectator-lined street, he sometimes wears handmade tinsel-trimmed costumes and strikes slow-motion poses while dancing to the radio in his backyard.
Born into a Mobile family of 12 children in 1932, Henry remembers earning pennies for bubble gum as a young boy while dancing to the big band swing hit "In the Mood" on the boarding house stairs where his family lived. "The Depression was a hell of a time. I was born right into that situation." But, he recalls, "my family, we would always do really great things, beautiful things, my sisters they used to make quilts, creating something from nothing, that's what we done." And he still does. To find raw materials for his artworks, a friend drives Hall around the neighborhood weekly on trash days.
Both Hall's parents were part Native-American. His mother and sisters "could dance because they were Indians and they had that movement, but my kind of dance is interpretative, creative dancing, and I have all the emotion within me."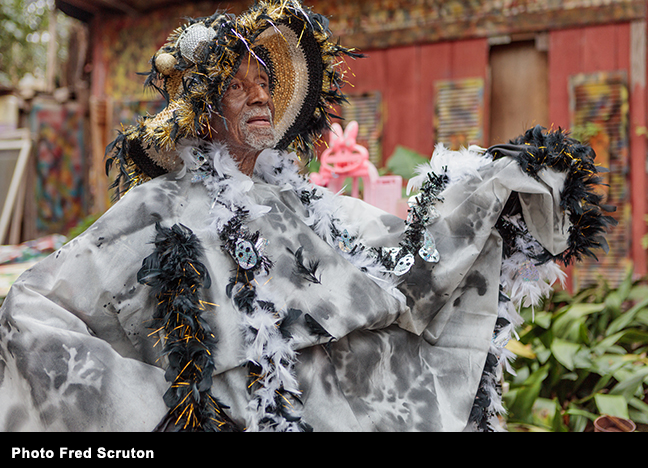 Henry also learned to knit, sew, and crochet from his mother. His uncle was a sign painter; young Henry watched him paint pool hall and store windows using brushes and paints carried in the front basket of his bicycle. During the 1940s, Hall made a "few little dollars" applying papier mache over chicken wire for Mardi Gras float makers in Mobile, and from a driver's seat inside, he steered a dragon named Bernadette. "This thing would twist and turn all up and down the street."
In later years he decorated stages, sold handmade dresses, and danced in "over 60" Mardi Gras balls. Recalling one introduction: "Ladies and gentlemen, what you've been waiting for, we're gonna take you to Aff-Ree-Caaa: Henry Hall doing the dance like a Zulu," he grinned. "I did all my hollering and creating, and when the band [played up] the drums, I shook my butt 'til I lost skin off of my bones."
Hall's photo album includes himself as that bare-chested African tribesman wearing a golden crown headdress, a dapper, smiling young man, and a dressed-for-Halloween wizard in front of his decked-out for Halloween house. When asked where he found inspirations for other costumes and dress designs, he said "in the movies" and broke into an improvisation of Carmen ("She had a basket of fruit on her head") Miranda singing "come on down to my house baby, chica-chica boom-boom…" During an impromptu backyard dance – wearing a full-length black and white speckled cape with a long scarf of black and white feathers and silver skulls – he called out: "doing Rita Hayworth!"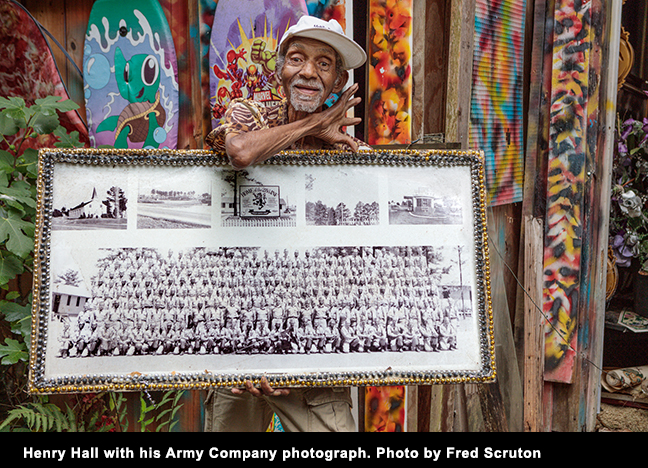 Hall served in the Army at Fort Benning in Georgia from 1953-55. He "loved [his] time in the service," his draughtsman abilities were employed for maps, charts and other illustrative teaching aids, he became an assistant drill instructor, and he staged dance entertainments. He prizes a four-foot photograph of his 200+ member company framed with strings of gold, black, and silver beads, but gesturing toward his yard full of artworks, he observes that after his discharge, "I began to multiply my ideas and creations." He calls his backyard "the wilderness," and says he talks to the grasshoppers and other insects, "as a friend and buddy like they was a person."

A self-taught performance artist, apparel maker, and multi-media visual artist, Hall also produces more traditionally crafted paintings. One is a young man's self-portrait in oil: finely modeled – as if by a schooled portraitist. Henry, wearing a red velvet jacket, white dress shirt, and black tie, looks back to the viewer with pensive confidence. A brown brushstrokes rendering of himself as a gaunt, balding, bearded old man wearing a loosely draped garment dates from the 1960s. It resembles an over-sized ambrotype. [19th Century warm-toned portrait photographs in small, ornately decorated cases.] Inside the picture frame, a black, oval, textured mat encases Henry's future self in fleeting profile. We see the back of his head as he seems to turn away.
Small fragments of broken mirror give a sparkle to paintings of a "shrimp-man" and the African queen, which are mounted over Henry's bed. He draws with pens, markers, and ink wash, sometimes adding spray-painterly stencil patterns by cutting curved shapes into folded paper, or by using leafy branches, ferns, or scroll saw patterns. On a table in his front yard near the sidewalk, Hall can be seen mixing wet layers of spray paint into organic abstractions, tilting the paper (or plastic substrate) to create flows and runs. In a series of geometric abstractions, concentric rectangular cut-outs are mounted over cloudy splotches of color, bas-relief glue swirls break up the flat surfaces with something of a 'glue-gun encaustic' effect.
Spray-painted clusters of large, orange flower buds outlined in black against a hazy green background cover the full east side of the Pink House. In the back of the 'wilderness,' tree branch stencils provide flora for an underseas storage shed mural with boldly striped fish and a red-faced octopus. Adjoining the shed, Hall built the "Black Orchid" nightclub: a "play-room" and bar once rented-out for wedding receptions and other celebrations. The ceiling is covered with multi-colored egg carton sound insulators; the walls with paintings, string lights, artificial flowers, party hats, ribbons, and plastic guitars. Decorations include three- to four-foot long souvenir models of imaginary Mardi Gras floats.
The fanciful models are made from cardboard boxes joined together and sheathed in wrapping paper to form the base structures of the floats. Typically lined with ribbons, strings of beads and tinsel, the whimsical themes for individual maquettes are set by found objects such as Spider-man's car, patriotic pom-poms, toy animals, trophies, and dolls. Sequined Styrofoam, Christmas ornaments, flowers, bottles, and such fill out the festive luster.
Hall worked mostly as a porter "for 38 years at Merchants National Bank of Mobile," and he ran a part-time dance studio in a downtown social club. He recalls touring in California and New York City, where he hoped – but was unable – to see the inner structure of the Statue of Liberty. Since watching his mother sew as a little boy, "I would pay attention to everything someone was doing in creating something."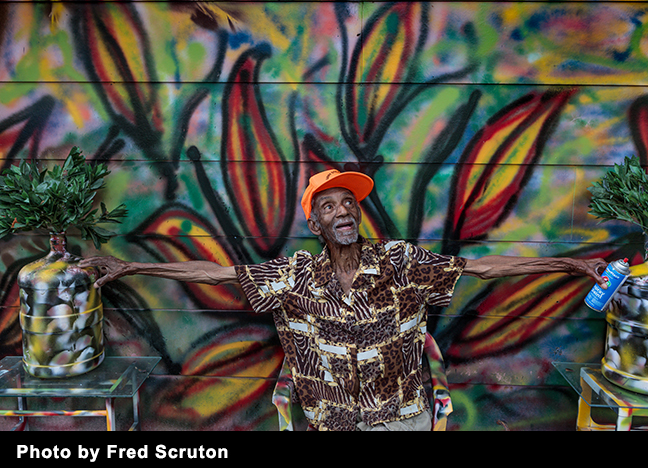 "I don't sleep as well as I want to because I can't quit thinking of creating and making things." Hall's large bed is piled about three-feet high with art-making materials, there's a sliver of mattress space for him to sleep along one edge: "I wake up and begin to think of something – I start doing that and [then] come do something else."
Always on abundant display, the Carnival-atmosphere theatricality and glitter of the Mardi Gras has no doubt been a primary influence on Henry Hall and his work. "I've enjoyed my life upon this earth. I drink my gin and juice every day and have a hell of a good time, by myself, on Cone Street, Mobile, Alabama. Henry Hall – the faaabulous Hall!"