Writing about seeing an exhibition of works by a blind artist presents a metaphysical conundrum. While Hawkins Bolden (1914-2005) only experienced his work by touching, the visitor to the exhibition, Hawkins Bolden: Scarecrows, at Shrine in New York City only experienced the works visually. The gap between knowing and understanding the work at times represents a great chasm filled with awe and wonder.
Curated by Shrine owner Scott Odgen, the exhibition, held April 9 through May 15, 2021, featured 20 works by Bolden. The exhibition took the viewer on a mind-bending journey that revealed the power of sightless vision and soulful touch.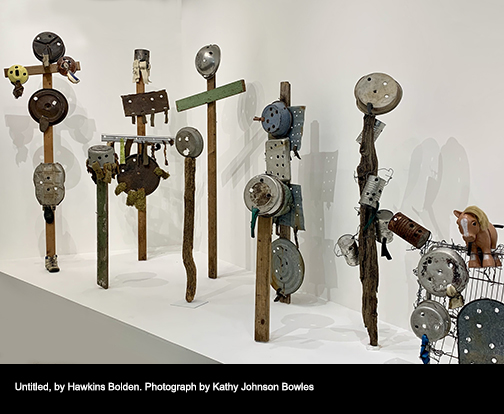 The journey to understand Hawkins Bolden's raw, abstracted, and terrifying faces and figures begins with the knowledge of his life and the circumstances leading to creating the work. Bolden, of African American, Creole, and Native American descent, was born and lived in the Bailey's Bottom area of Memphis, Tenn. At the age of seven or so, he was hit on the back of the head with a baseball bat while playing catcher. Bolden stood up to catch an errant pitch, and the batter swung. After the injury, he suffered blackouts and seizures. One such bout left him lying motionless in a field staring at the sun. The damage to his eyes left him blind.
For much of his adult life, Bolden lived with his sister, Elizabeth, in a dilapidated house in Memphis. In the film Make by Scott Ogden and Malcolm Hearn, Bolden's life circumstances of abject poverty are apparent in his frayed clothing and his cobbled-together existence.
Bolden's positive nature and his persistence to create is in stark contrast with his sister, who he described as liking whiskey and recalled her often saying, "Shut up blind mother fucker." Nevertheless, Bolden's need to create and be active prevailed. Spurred by his niece, Verna Billings, he found meaning and purpose in creating scarecrows for his subsistence garden of tomatoes, hot peppers, and collard greens.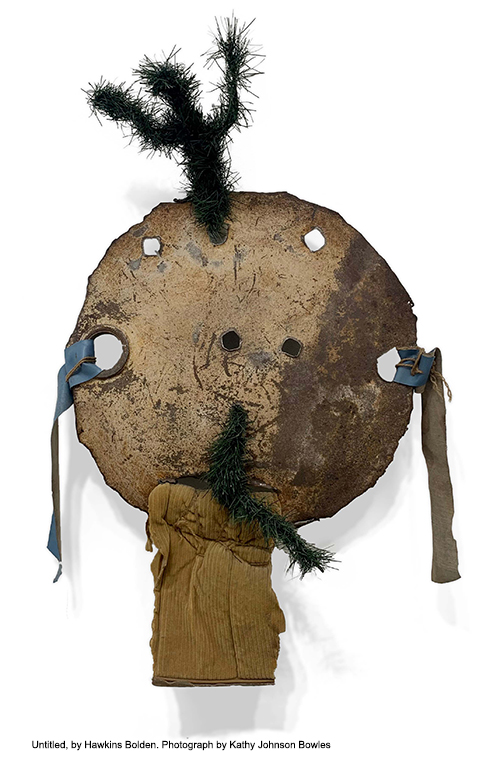 In the film Make, we learn Bolden traversed alleyways and roadsides in his neighborhood, picking up dusty, discarded scraps. We watch in horror and fascination Bolden wielding a power drill or a hacksaw (sometimes just a saw blade), squatting on the floor of the kitchen, living room or bedroom, to create his scarecrows. A dented pot or frying pan becomes a face with piercing holes for the eyes. A split piece of hose or dirty remnant of carpet becomes a mocking tongue sticking out. A discarded artificial Christmas tree branch becomes a shock of hair.
Pieces of lumber lashed or nailed together become a figure. Each element added over time to Bolden's garden created a complicated, almost chaotic performance of "bodies" in his parched parcel of land.
The facts of Bolden's materials and methods, voice and values, nature, and being in the world alter and enhance the viewer's experience with works on exhibition at Shrine.
The viewer walked into an air-conditioned East Village gallery and found the discreet remnants of the world Bolden created in his garden in the 1980s and 1990s.
Each piece, exquisitely displayed like a sacred relic against a clean white wall, reads like a homage to Bolden. Some pieces are displayed like a single masterpiece on a wall, such as with a worn, gray metal trash can lid with raised concentric circles, punctuated with holes and pieces of cobalt blue shag carpet. Elsewhere a series of Bolden's scarecrows seem to march across a platform as if in the midst of a ritual.
At first, the viewer might imagine the works as tests of artistic theory and practice by the hands of a learned Abstract Expressionist. But, no, there is no "artist" who compares to the authenticity of Bolden's haunting vision. How could they? Bolden's work is the result of lived experience. No matter how much one might try, a seeing person could have never seen what Bolden's mind's eye and his searching hands saw in these humble materials. His scarecrows are totems and talismans replete with spiritual power. Now, some 16 years after his death, the viewer is left with a few of Hawkins Bolden's powerful assemblages.
While it is true that the antiseptic white walls of a New York City air-conditioned gallery are a far cry from the oppressive heat, humidity, and dust of a Southern town in the summer, Shrine presented Hawkins Bolden works with a deep sense of respect. Hawkins Bolden's place in the artistic world as a genius of powerful abstraction is secure.