The Metropolitan Museum of Art, May 22 to Sept. 23, 2018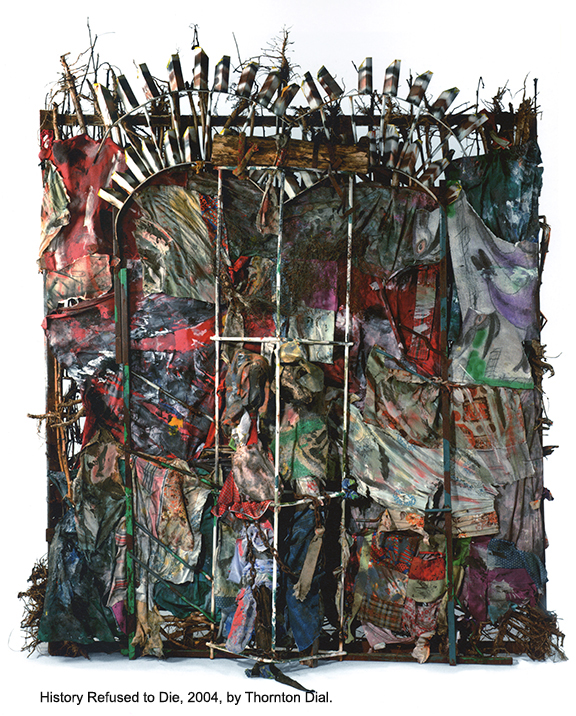 New York City's Metropolitan Museum of Art, the first institution to receive a gift from William Arnett's Foundation, introduces its good fortune with History Refused to Die: Highlights from the Souls Grown Deep Foundation. Organized by Randall R. Griffey and Amelia Peck, curators respectively of modern and contemporary art and American decorative arts, the exhibition validates Arnett's long, ardent advocacy of Black Southern artists.
Featured are 29 of the 57 works comprising the gift, beautifully installed in two galleries. Thornton Dial is the star of the show with six mixed-media works and three drawings. Also included are a dozen quilts by the famed Gee's Bend quilters and works by Lonnie Holley, Ronald Lockett, Nellie Mae Rowe, Purvis Young and others. Diverse in media and technique, the art finds commonality in its use of found materials. The worn-out and discarded, the detritus of industrial America are splendidly repurposed here.
The visitor who approaches the exhibition down the long hallway punctuated by Loretta Pettway's Medallion quilt (c. 1960) enters a gallery that is somber in tone. Gathered here are works that speak of labor, hard labor – the punishing work of slaves and sharecroppers in the fields, prisoners in chain gangs, and laborers in dangerous industrial settings. Dial's assemblage, Shadows of the Field (2008), evokes an aerial view of a cotton field while his Powder Plant (2013) references harsh factory conditions.
Lucy Mingo's quilt, Blocks and Stripes (1959), stitched from her husband's worn work clothes, presents another perspective on labor as does Lonnie Holley's African Mask (1950), in fact, a welder's mask encircled by remnants of automobile tires. On a platform elevating it above the other works is Joe Minter's Four Hundred Years of Free Labor (1995), a commanding sculpture of rusted hoes, shovels, pitchforks and chains. Almost obscured by the farm tools, a small plaque reads, "Give us this day our daily bread," a gentle reminder of the toil required to produce sustenance.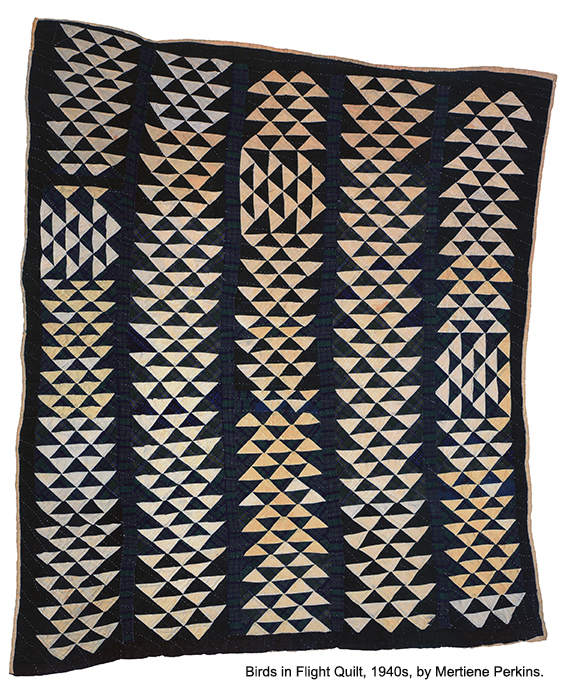 The muted tones of the first gallery give way to bursts of color in the second. Seven quilts line the walls, their vibrant hues still fresh. Among them is Annie Mae Young's Strip Medallion (1976), the quilt that led Arnett to Gee's Bend in his search to find its maker.
Dominating the gallery is Dial's History Refused to Die (2004), the double-sided, mixed-media construction that gives the exhibition its name. On one side, a couple, made of cloth and bound by chains, is held by a metal cage against a sea of torn, stained fabric. They are accompanied by stalks and roots of okra, an African plant that crossed the Atlantic with the slave trade. The artist's recycling of discarded cloth, in this construction and in others, links his work to that of the quilters.
Though composed of scraps of sheet metal, Ronald Lockett's The Enemy Amongst Us (1995) resembles a block and strips quilt. It is not surprising to learn that Dial and Lockett, who were cousins, had quilters in their family.
While the first gallery addressed hardships endured by Black Americans at the hands of their oppressors, some of the art in the second gallery depicts tragedies that have affected all Americans. One even records an event that pleased many Americans – the inauguration of Barack Obama, Dial's January 20, 2009 (2009).
The Oklahoma bombing inspired The Enemy Amongst Us. A semi-abstract drawing, 9/11: Interrupting the Morning News (2002), is Dial's response to the terrorist attack. His ironically titled Victory in Iraq (2004) is a deep and dark tangle of twisted metal, barbed wire, children's toys, and red-stained fabric overlaid by a "V" striped in red, white, and blue. The victory is Pyrrhic, the construction a bitter commentary on the costs of war.
In accepting Arnett's gift, the museum signaled its willingness to present his audience with a broader view of contemporary art. Because of that objective, the exhibition was not held in the Met's Breuer Building as originally planned even though its space permitted the entire gift to be shown at one time. Instead the staff placed the exhibit in the museum's main building where it could be seen in conjunction with its contemporary art collection. In fact, Victory in Iraq, placed at the alternative entrance to the exhibit, is actually hanging within that collection, its neighbors paintings by "blue chip" modern artists.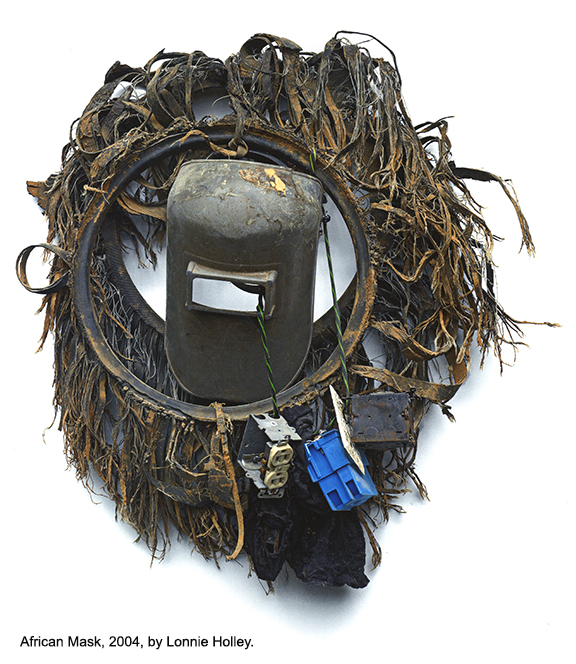 The curators acknowledge that acceptance of these Southern artists has sometimes been justified on the basis of its seeming similarity to mainstream contemporary work. Viewers familiar with the production of Jasper Johns, Jackson Pollack, Willem de Kooning, or other contemporary artists may find that the work displayed in these galleries prompts comparisons.New York Times reviewer, Roberta Smith, observed, for example, that Emma Lee Campbell Blocks and strip work clothes quilt (c. 1950) reminded her of Robert Rauschenberg's Bed (1995). The placement of the art work actually encourages viewers to make their own comparisons.
Standing in front of Annie Mae Young's quilt, the visitor can look across the next gallery to a painting of strikingly similar color and composition by Mark Rothko. Victory in Iraq has been mounted near Jackson Pollack's iconic Autumn Rhythm No. 30 (1950), begging the viewer to look from one to the other. Making these comparisons can be fascinating for viewers, but the curators are quick to point out that any similarities are entirely coincidental.
They insist that the merit of these Southern artists must be judged independently of any surface similarities to artists already included in the American cannon. As part of this effort, the Met has chosen to change the language formerly used to describe the work in its gift. The terms, "outsider," "self-taught," or "folk" do not appear on the labels or in the catalogue that accompanied the exhibition. They were not heard in any gallery talk or other presentation. Believing these descriptors to be at best inaccurate or at worst pejorative, the Met has chosen to describe the work simply as "art by contemporary Southern Black artists."
Although the decision about where works in Arnett's gift would be displayed after the exhibition closes, has not been made. Randall R. Griffey insisted that the work of the untrained Southern artists would be integrated in future exhibits of contemporary art at the museum. "Epic Abstraction," an exhibition planned for Fall 2019 might, for example, pair Dial's Shadows of the Field with Robert Motherwell's Elegy to the Spanish Republic, both paintings being lamentations.
As the museum broadened its canon, it has also diversified its programming. Many newcomers to the Met attended the opening of the exhibition. Families of the artists were there, sharing their memories as museum specialists took note. A descendent of Lucy Pettway's claimed to have slept under Housetop and Bricklayer with Bars (1955). Lucy Mingo, aged 83, rose from her wheelchair to be photographed next to her quilt. Dial's descendants posed in front of Powder Plant which they helped execute as his strength declined.
Other museum programming permitted artists to exhibit their talents in a different way. Accompanied by the experimental musical duo of Nelson Patton, Lonnie Holley demonstrated his musical abilities, and soprano Julia Bullock, the Met's artist-in-residence, sang the words of Thornton Dial in a recital that included fresh versions of traditional slave songs. Louisiana Bendolf of the Gee's Bend Quilt Collective conducted quilting workshops for museum-goers.
The new work brought unexpected challenges to the conservation staff. The discovery that Dial had used Coca Cola and coffee as drawing materials was a "first" for the Met's paper conservator who gave a talk on her analysis. No one in the audience brought up the conservation of okra roots and stalks.