Photographs by Jerald Swope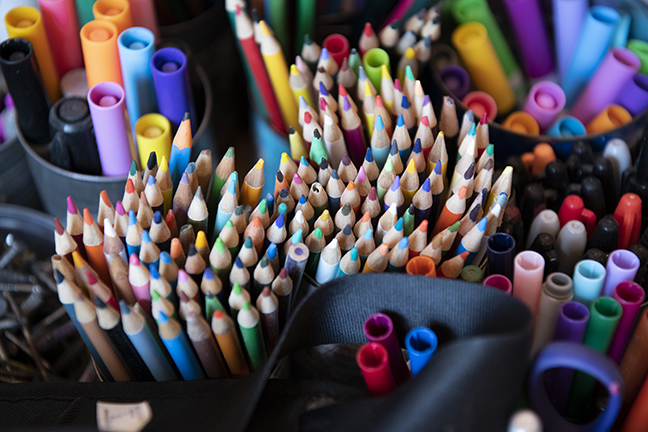 For Larry Bissonnette, context is as thick as the layers of paint he smears with his hands. The work of this Milton, Vt., artist and disabilities rights advocate can be viewed at once through the spontaneous, untutored aesthetics of the self-taught and at the interchange where art and autism meet. His multimedia creations find kinship with contemporary art, offer social discourse coupled with incisive humor, and mediate the gap between disability and ability. Not least, they place him in a select vernacular of Vermont artistry.
What he does not make, however, is "autistic art," i.e., creativity as a byproduct of disability. Rather, his art speaks past autism to share the humanity of a person whose diagnosis inhibits typical communication of feelings, thoughts, and ideas. [For a full list of common characteristics associated with autism, see for example, Chantal Sicile-Kira, Autism Spectrum Disorder, 2014.]

Historically, singular abilities in the arts have countered the conventional narrative of disability, such as the technical brilliance of many blind musicians. To that end, Bissonnette provides his own explanation of what he does: "Love to look at my art as intuition driven not ordered by my disability."
Born June 24, 1957 in Winooski, Vt., Bissonnette, who is on the autism spectrum, began drawing and sketching at age five as a nonverbal child. Because autism was little understood then, he spent his youth misdiagnosed, labeled with mental retardation, schizophrenia and more.
At eight, he was placed in the Brandon Training School, a onetime institution for people with developmental disabilities that earned a prison-like reputation. "I had no idea what I had done wrong," he says of his painful experience living there. During his stay, which lasted for a decade, he learned to paint, and would sneak into the facility's art room initially to relieve boredom. He next spent several years at Waterbury's Vermont Psychiatric Hospital and was only classified as a person on the autism spectrum when he became an adult.
Bissonnette then lived in various residential programs in Barre, Vt., through 1988, the year that the Howard Center – Chittenden County's longstanding mental health and developmental services agency – began working with him. In 1991, Howard Center Educational and Communication Specialist Pascal Cheng began an ongoing association with the artist by assisting him in his writings, appearances and presentations. This included Bissonnett's introduction, at the age of 34, to facilitated communication via typing. Today he communicates through an iPad with a text speech app.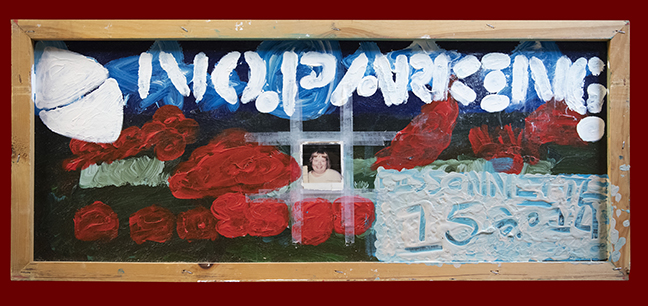 In the mid-1980s, Bissonnette became involved with G.R.A.C.E. (the Grass Roots Arts and Community Effort), a Vermont non-profit that provides creative outlets in the visual arts for disabled and elderly populations. Many of his early pieces are in its prominent collection of self-taught Green Mountain art alongside those by famed Barre artist Gayleen Aiken. Two documentaries have focused on his life and art: the 2005 short film, My Classic Life as an Artist: A Portrait of Larry Bissonnette, and the 2011 feature-length film, Wretches & Jabberers, in which he co-starred with fellow Vermonter and autism advocate, Tracy Thresher.
While Bissonnette's art is not a result of autism – indeed, his art entertains many coexisting identities – neither can the neurodevelopmental disorder be entirely divorced from certain aspects of his creativity and routine, which involve daily drawing at his Burlington studio and weekly painting, the latter typically at workshops sponsored by G.R.A.C.E. "Yes, used to certain habits of doing things," he said in typed response. "Upending the routine would be good." (Cheng will place a gentle hand on the artist's shoulder to keep him focused as he types; no such assistance is required when Bissonnette makes his art.)
Some traits in his work are common to art made by people on the autism spectrum, such as thematic repetition, interest in the past, transportation imagery, and a compulsion to create for its own sake. (Jill Mullin, Drawing Autism, 2014.) Indeed, the understanding and appreciation of art by those classified autistic has grown in recent years and includes an ever-expanding list of books on the subject and as well as studios, exhibition spaces, and representation for autism-related art (California's Art of Autism collective, the-art-of-autism.com, lists many such organizations.)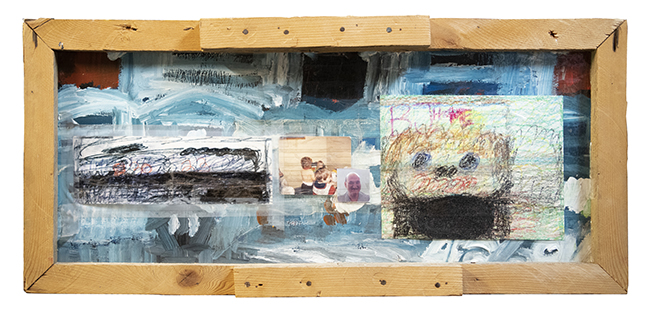 Yet given that autism exists on a spectrum – i.e., no two people with the diagnosis show exactly the same symptomatic behaviors – it follows that work by visual artists with autism is just as varied, existing on a creative spectrum that ranges from the hyper-realism of Stephen Wiltshire to the ethereal pop art of Jessica Park to the Lego compositions of Alex Masket.
Still, Bissonnette's motifs, gestures, themes, and ways of doing things in his art can, and should, be attributed as well to personal style. Distinguishing elements in his work include: memory-based subject matter; preference for multi-media; endless shaping and reshaping of iconography and symbols including hyperlexia; motion imagery such as wheels and circles; faces, both painted and photographed; marginalia; handmade frames; and commentary on disability issues, for which he is a well-traveled advocate. The titles he gives many of his pieces also bear a personalized, near poetic stamp, such as the 1994 studio-hung miniature featuring a snapshot of his father: "Nowadays a Parent's Old Portrait Is Presented in a Perfectly Made Picture Frame. My Father, Proud of Son's Art, Is Best Presented in an Old Wood Frame."

Visually arresting, Bissonnette's larger works take the form of oblong, multi-media panels layered with acrylic paint, marker, colored pencil, Polaroid film, tape, wood, and nails. As Julia Bascom's 2012 book, Loud Hands, points out, people with autism often rely on their hands to break the "language" barrier and, by extension, the deflating stereotypes that accompany autism. How fitting, then, that his art relies on bold, tactile gestures that could only be made by engaging one's hands in a direct dance between paint and panel.
The frames are their own marvels, thick blocks of wood that usually hide or obscure part of the painting, which may be the point. Here is an unrevealing between art and viewer that hints, perhaps, at the impasse autism can inflict on social interactions. Then again, as Lyle Rexer notes, "the frames add a formality that lifts the work into a realm of intention and public communication" (How to Look at Outsider Art, 2005). Put another way, the frame gives purpose to the act of viewing and to what is being viewed, which would explain why Bissonnette refuses to call a work finished until it is framed.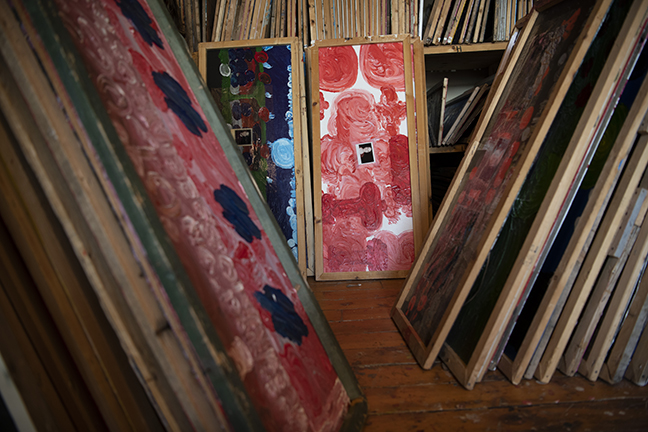 Many of his works are memory based, recalling more often than not his institutionalized childhood at the since-closed Brandon Training School. Far from the nostalgic, rural vistas of, say, Grandma Moses, or the whimsical recollections of fellow Vermonter Gayleen Aiken, Bissonnette's paintings and sketches bear witness to a time when he was most misunderstood and mistreated.
Bissonnette constantly revisits and re-figures his themes, such as the many drawings he has made of a school playground. This form of perseveration locks in the rhythms and patterns of a scene or scenario, a quality that may well equip children on the autism spectrum with the kind of practice-instilled discipline necessary to create art.
Still, his paintings conform less than one might expect to the habitual exactitude often associated with so-called savants and artists with autism spectrum disorders (ASD) whereby recreation of a scene or experience is rendered in painstaking detail and accuracy, such as the aforementioned work of Stephen Wiltshire.
Bissonnette's style and content has consciously shifted and adapted over the years and contains an abundance of self-reflective humor and social critique. It leaves no doubt that the autism-classified artist is an auteur, not an automaton. One only has to compare his earlier works, tightly conceived and executed, to his late style full of impromptu swirls of color and a looser command of materials. "Wilder and more movement driven, paint is thicker," says Bissonnette of his current approach. Stuart Murray sums up the Vermonter's art, calling it "a supreme example of autistic intelligence at work in a portrayal of disability…His individual version of autism and his chosen working method represent a unique version of autistic expression" (Representing Autism, 2008).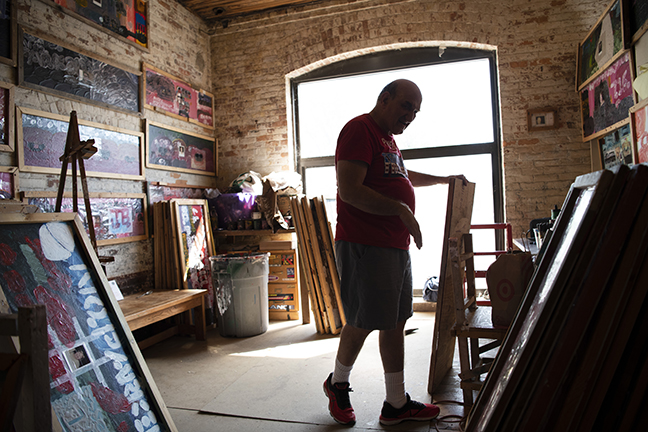 Like many artists with ASD, Bissonnette revels in an obsessive iconology, one packed with allusion and autobiography. Numbers figure prominently in his work, including the numeral 3, which refers, he says, to the age when he started to make art, or his numbering system for dating works, which becomes, a la Howard Finster, part of the painting. ("It's like popular magazine timeline of regular issues," Bissonnette says.) The walls, rooms, windows, play park swings, and zip code of Brandon Training School make frequent appearances, as does an anonymous painted face that, Bissonnette explains, is no one in particular, just the same face in different scenes. The hyperlexia and fanatic pervasiveness of certain objects and formulaic designs in his work, one could argue, share a similar compulsive and yet artful space as Jasper Johns' fixation on flags, maps, and numbers.
Bissonnette's defining facet, however, has to be the photographed faces attached by sinuous bands of tape that appear in nearly every painting. These photos – first taken with a Polaroid camera, now with a Fujifilm Instax 210 – are of family, friends, and those he meets at conferences. He likens the method of placing photos on his canvases to adding "a topping on an ice cream sundae" and says he will sometimes wait years before he matches an image with the right painting. (This explains why the dates on the front and back of a painting frequently disagree.)
More than a mere topping, these photos anchor the paintings in complex, associative ways. If the human face has been at the forefront of modern art, as Lucienne Peiry contends (Art Brut, 2006), what to make of the instant camera headshots that give weight, balance, completion, focus, and human connection to the background abstractions of Bissonnette's paintings. It's almost as if the painting becomes activated or inspirited once he tapes on the face, a post-modern Janus figure moderating two worlds, the autistic and non-autistic, who now share a space of recognition.
Many pieces as well have the recurring catch phrase, "No Parking," stamped in stencil-like lettering almost as a kind of graffiti politik. It is the artist at his most political, suggesting the socially imposed limits of inclusion and presumption of competence for the disabled. The way he explains it, anybody can park where you like unless you happen to be disabled, in which case you are met with "no parking" at every turn.
There are other aspects to the Milton native's artistic identity. His color palette, nature-imbued sensibility and sense of line, and rootedness of location confirm his ties to the Green Mountain State. And he embraces being called an "outsider artist" even at the risk of further marginalization.
True, he experienced relative isolation at Brandon when he was developing his artistic voice, and his autism can be misread – to the uninformed, at least – as severe disengagement. But the outsider or self-taught designation is relevant only in that he has not let the absence of tradition or formal art training dampen his desire to create. The G.R.A.C.E. program he partakes in is a community, after all. Add his family, his Howard Center relationships and interactions, his ongoing presence in academic and disability rights circles, and his sundry travels abroad, and he is more of a global citizen than many of his Vermont neighbors.
In 1949, the French artist, Jean Dubuffet, put together the first exhibition of art brut, which championed the creativity of children and the institutionalized as an alternative to schooled, conventional art. In the show's catalogue, he wrote, "Where is he, your normal man? Show him to us! Can the artistic act, with the extreme tension it implies and the high fever that accompanies it, ever be deemed normal? ... artistic function is identical in all cases, and there is no more an art of the insane than there is an art of dyspeptics or those with knee problems."
We have come a long way since Dubuffet's time in understanding the complexities of the mind and in cultivating a culture of empathy and inclusiveness for those with disabilities. But his argument holds true. Bissonnette's dazzling work, which resides, aptly enough, in Dubuffet's Collection de l'Art Brut, in Lausanne, Switzerland, uses color, form, and line – the capacity of any and all visual art – to make us see the world in ways previously unimagined.
Photographer Jerald Swope is Department Chair and Associate Professor of Media Studies, Journalism & Digital Arts at Saint Michael's College.