This Message is going to be more personal than usual, because we have been involved in an exciting project for more than six months.
The Virginia Museum of History and Culture, (VMHC) as I wrote in my last Message, re-opened to the public on May 14, after having been closed for more than two years. Visitors were not allowed inside except to attend occasional lectures in the auditorium. Two years was a long time for a museum to be closed, and sometimes when I mentioned the museum, people would ask, "Where is that museum anyway?" It seemed like people had forgotten about the former Virginia Historical Society – now identified as the Virginia Museum of History and Culture.
But more than a change of name – the place has been completely transformed into a world class museum – and I expect that people will come from all over the world to see it! On opening day, a diverse group – families, children, teenagers, the elderly, and babies in strollers – thronged inside to take advantage of free parking and free admission. FUN was in the air, and adventure awaited!
Even though we had been inside a few times while white-hat construction was going on, we were completely overwhelmed by the scale and the scope of the spacious entrance hall, the enormous windows, the beautiful new bookshop and cafe, the gorgeous new research library, and the innovative introductory film, "Imagine Virginia," on an 180-degree, curved screen, which traces the entire history of Virginia in 15 minutes.
But the most amazing part is on the second floor – the astounding array of galleries! "The Story of Virginia," one of the original grand exhibitions, has been refreshed with additions such as U.S. Chief Justice John Marshall's enormous black robe. (Marshall was also the first president of the Virginia Historical Society in 1831.)
"American Democracy" is an exciting exhibition on loan from the Smithsonian. "The Lost Cause: Myths, Monuments, & Murals," contains the sculpture of Robert E. Lee that was recently removed from the U.S. Capitol, where it had represented Virginia, along with that of George Washington (whose statue was allowed to remain.)
"Our Commonwealth," the marquee exhibition, is the most innovative and exciting one, with 40-feet wide, ever-changing, digitally projected images that surround the viewer, as well as digital interactive displays and fascinating artifacts and their descriptions, from the five different sections of Virginia. These sections – Southwest Virginia, Northern Virginia, Central Virginia, Tidewater, and the Shenandoah Valley – tell the stories of each part of Virginia through historical and contemporary items, photographs, posters, music and custom soundscapes. I have been through this exhibition at least seven times, but I still have not absorbed it all.
The children's exhibition, "Commonwealth Explorers," is a play area full of interactive items and props that welcome children to enter and have fun exploring a bus, a doctor's office, a kitchen, costumes and toys. We saw many children taking advantage of this special treat.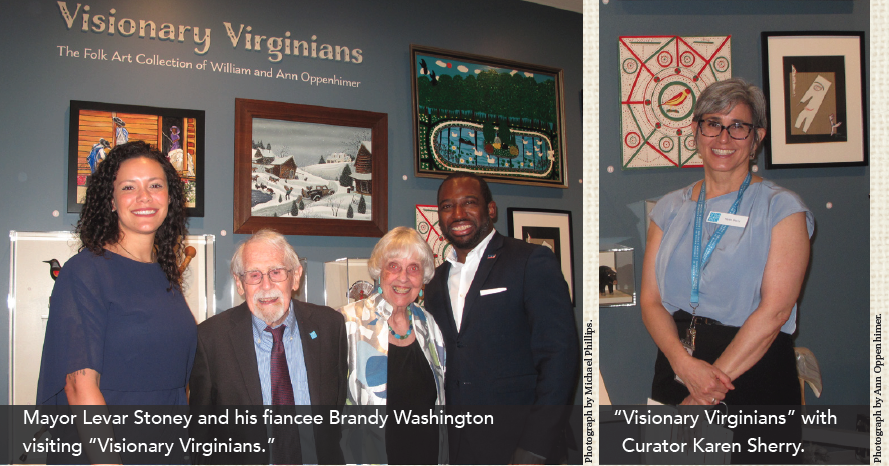 That section is across from "Visionary Virginians," a small exhibition of folk art by Virginia artists from the Oppenhimer collection. Two portraits of William and Ann by Edwin Jeffery Jr. from Memphis, Tenn., are the only exception to artists from Virginia. Of course, that exhibit is dear to our hearts, and it was made possible by the tasteful and enticing design of Curator Karen Sherry. She selected each art work, and then read through dozens of Folk Art Messengers, studying each piece, and writing detailed stories and descriptions that had never occurred to me. A painting by Jerry Dance, Moving On, led Karen to write about the Great Migration when Black survivors of the Civil War fled the South to settle in cities like Chicago and New York. Richmond Mayor Levar Stoney was fascinated when he saw this painting, and he told me that his ancestors had also been part of the Great Migration from Beaufort, S.C. to New York City.
It is truly amazing that the nine-million items in the collection of the Virginia Museum of History and Culture, which had been in storage during the construction, were sorted through and prepared for viewing again in the newly expanded spaces. Of course, not all 9,000,000 were chosen, but many, many were!
I asked Vice President of Collections and Exhibitions Adam Scher how he and the staff had been able to accomplish this in the two short months between the end of construction and opening day, and he assured me it had not been easy. "Everyone worked hard, and we got it done!" he said. It was indeed time for the devoted staff of the VMHC to take a well-deserved vacation.
Jamie Bosket, President and CEO of the Virginia Museum of History and Culture, exclaimed to a group of supporters, "Now is the Moment!" He said it was time for the museum to move into the future and to become not only a museum of Virginia history but a national museum of innovation, experimentation and enthusiasm for what is to come. "We want to tell the Story of Virginia and all Virginians," he said.