Two Divergent Paths:
I. The Acquisition and Acclaim of African American Art from the South:
In the Folk Art Messenger, we have written repeatedly about William Arnett and the Souls Grown Deep Foundation, but to reiterate: The collector, scholar and author of ground-breaking books on the subject, Bill Arnett of Atlanta, Ga., is solely responsible for the preservation of almost 13,000 works of Southern African American art. This art would not even exist or be as acclaimed and valued as it is today, if it were not for Arnett.
In 2010, the Souls Grown Deep Foundation was organized, and 1,200 works from Arnett's collection were designated to fulfill his dream – to give this art the appreciation it has needed and deserved. In 2014, the program was initiated with the acquisition of 57 works by The Metropolitan Museum of Art. FASA President James Sellman and his son, New York-based financial entrepreneur Michael Sellman (both board members of the Souls Grown Deep Foundation), arranged for Sheena Wagstaff and several other curators from The Met to fly in a private plane to view the Arnett Collection in his Atlanta warehouse and to visit artist Thornton Dial in his home in McCalla, Ga. During a period of several visits and over several years, The Met curators selected the paintings, sculptures and assemblages, including 18 Gee's Bend quilts. These 57 works of art were an outright gift to the museum from the Souls Grown Deep Foundation.
After this initial transaction, other museums subsequently were offered works from the Arnett Collection, but these were designated to be gift-purchases. Since the 2014 gift to The Metropolitan Museum, the following museums have been the participants in this project:
The Ackland Art Museum, University of North Carolina, Chapel Hill, N.C. - 35 works in 2016-17.
The Fine Arts Museums of San Francisco (deYoung Museum), Calif. - 62 works in February 2017.
The High Museum of Art, Atlanta, Ga. - 54 works in April 2017.
The New Orleans Museum of Art, New Orleans, La. - 10 works in July 2017.
The Philadelphia Museum of Art, Philadelphia, Pa. - 24 works in January 2018.
The Virginia Museum of Fine Arts, Richmond, Va. - 34 works in May 2018.
It is notable that there is a significant percentage of Gee's Bend quilts in each of these acquisitions, roughly 27 percent on average: The Met-18 of 57; Ackland-4 of 35; San Francisco-10 of 62; High-11 of 54; New Orleans-5 of 10; Philadelphia-15 of 24; and Virginia-13 of 34. These quilts are large, spectacularly attractive and easy to transport, display and store. In my opinion, they are also easier to comprehend and appreciate by the average museum visitor, and this has accounted in part for the curators' selections.
As of this writing, only the deYoung Museum has exhibited its acquisitions, and they chose to display the entire 62 in an extremely successful exhibition on view June 3, 2017 through April 1, 2018. The Virginia Museum of Fine Arts has scheduled its exhibition, Cosmology of the Souls Grown Deep, for July 2019.
Whether the art is called folk, self-taught, outsider, outlier – or Souls Grown Deep's preference, Vernacular Art – this distribution of Africa American art from the South has turned the field of contemporary American art upside down and has perhaps brought this art into the mainstream at last!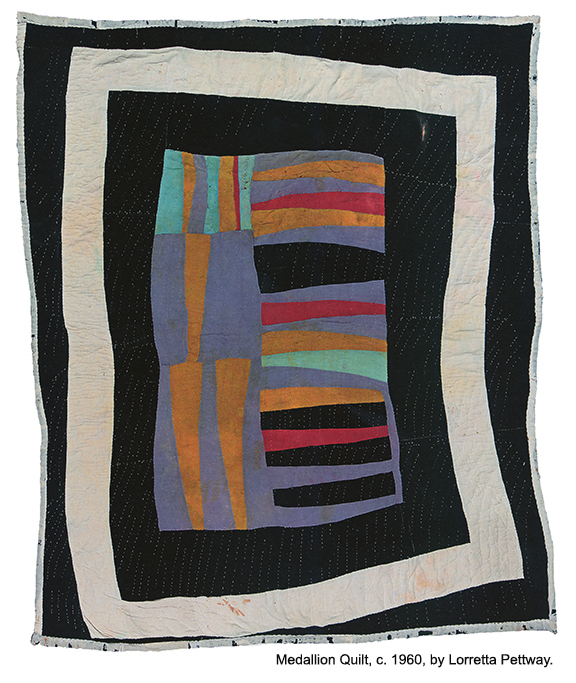 2. The Disinheritance and Disappearance of Folk Art from Southern Universities and Museums:
The following examples of the hardships and dissatisfaction occurring over the past several years are:
The Lynch Collection at North Carolina Wesleyan University in Rocky Mount, N.C., was closed and the collection of North Carolina art, including works by Vollis Simpson, Vernon Burwell, James Harold Jennings, Arliss Watford and others. was donated to the Gregg Museum of Art and Design at North Carolina State University. Former Director Everett Adelman said that the museum had so few visitors that it was decided to close the museum in 2015, but this was not publicized when it happened.
A prominent collector had made an offer to donate a major folk art collection and substantial cash to establish a museum at a Georgia institution, and this donation had been approved. But after a change of university presidents, this generous offer was declined.
In 2010, Patricia Cormier, then president of Longwood University in Farmville, Va., and Johnson Bowles, then director of the LCVA museum, proposed that the university become a center for the study, advancement and collection of folk art with the incorporation of the Folk Art Society of America, which was accomplished in 2014. However, after the rotation of three subsequent university presidents and three museum directors, in 2016, the administration dismissed the Folk Art Society from Longwood University with no explanation. The folk art collection of more than 500 works remains subject to the whims and wishes of the current administration.
Recently, the Kentucky Folk Art Center at Morehead State University in Morehead, Ky., has fallen on similar hard times. With the advent of a new president, the university's financial support of the museum was discontinued. Despite a letter campaign to President Jay Morgan, the Board of Regents and the Governor of Kentucky, the decision remained constant. Morgan suggested that the collection of 1,407 pieces of Kentucky folk art be distributed around university buildings, presumably as decoration. Even though various entities, such as the City of Morehead, Rowan County and the Morehead Tourism Bureau, pledged to donate maintenance funds, insufficient money was raised to continue operation, and KFAC Director Matt Collinsworth took a job offer as Interim Executive Director at the Lexington Art League. No word has been received as to what will happen to the collection, which was unique in the support and encouragement it gave to the artists of this impoverished region, as well as the edification and stimulation it gave students.
Conclusion:
While African American art of the South recently has received tremendous enthusiastic acceptance and acclaim, especially in its initial exhibition at The Metropolitan Museum and at the six other institutions, the assortment of negative occurrences elsewhere has been disappointing and disquieting. Just when all these artists – White, Black, Asian, Native American, Latin American and Hispanic -- should be recognized and applauded throughout the United States, it appears that certain universities have been unsupportive of a wide sphere of artistic talent and important art work, and this is due in most cases to a turnover in university personnel. Universities have simply missed the boat, and they need to get back on board before it's too late!