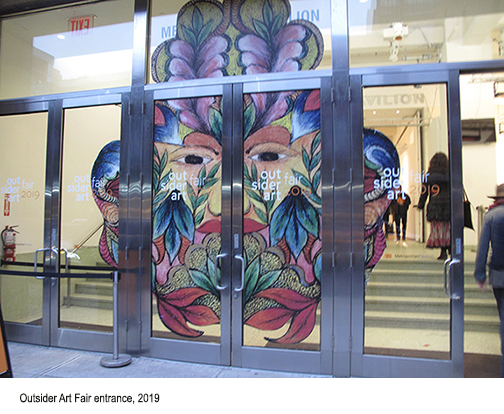 When I think about the early Folk Art Messengers, starting with the first one -- a six-page, black-and-white foldout (November 1987), and I see this one -- #96, with 40 full-color pages -- still going strong after more than 31 years, I am so grateful for all the people who have made it what it is today.
We have been blessed with the bounty of wonderful writers – today's issue is a prime example, with Margaret Day Allen, Norman Girardot, Jeffrey Wolf, Bill Ferris, Tina Cox, Carol Millsom, Henry Boxer, Rebecca Hoffberger and Mike Noland stepping up to fill our pages. Add the magnificent photographs that Fred Scruton so generously shared, and this issue is complete. My deepest thanks are extended to all of you! Of course, I also especially thank my husband, William (Boo) Oppenhimer, for his many hours of tireless editing, proofing and discussing.
We made a radical departure in featuring the strange, even horrendous, art of the religious visionary Norbert Kox. I must admit that I previously had not been a fan of Kox's work, but after the in-depth exposure that resulted from the tributes to Kox from Girardot, Boxer, Hoffberger, Noland and Scruton, I now appreciate his sensibilities, talent and ultimate value as an important artist. Even more significant was the outpouring of love and respect that came from these people who knew Kox best.
We honor Norbert Kox in this issue of the Folk Art Messenger, and we only regret that he did not live to see it. He must have had a great influence on many people in the course of his life. Of how many can that be said?
While I'm offering thanks, I must list a few more of the multitude of writers who have contributed to the Folk Art Messenger over the years: Aarne Anton, Ramona Austin, Lynne Browne, Judy Burch, Roger Cardinal, Georgine Clarke, Tony Gengarelly, Bud Goldstone, Jeffrey Hayes, Bernard Herman, Jo Farb Hernandez, Stephen Huyler, Randall Lott, Minhazz Majundar, Gary Monroe, Joan Pearlman, Tony Rajer, Chuck Rosenak, Scott Rothstein, Thomas Scanlin, James Sellman, Micki Beth Stiller, Kenneth Walker, and many, many others.
Another thing on my mind is the NAME GAME. "Outsider" is taking over, that goes without saying. But why? OUTSIDER originally meant those who lived outside of society, whether in mental institutions or incarcerated in prisons. ART BRUT was no better; it meant raw art in French, and it was also applied to those outside. VISIONARY is alright in certain instances – many people have visions, dreams or nightmares, and perhaps they depict these in their artwork. But not all art termed visionary is the result of visions. VERNACULAR is the term preferred by the Souls Grown Deep Foundation, and they reject any other term, especially FOLK ART. That is really a NO-NO. But we like the term and we're sticking with it, just as the American Folk Art Museum, the Museum of International Folk Art, and the International Folk Art Market continue to do.
Outsider Art is sweeping the country, if not the world. Personally, I and some artists I have known are dissatisfied with this term and find it derogatory. Who wants to be an Outsider anyway? I will be happy when all art is called art and all artists are called artists, and no distinction is made.
The Souls Grown Deep Foundation is helping bridge this gap with its program of making gift-purchases available to mainstream museums around the country (and soon in Europe). The museums are helping by acquiring the work of these African American artists from the South and integrating this art into their collections of mainstream contemporary art. This is a step in the right direction.