Recently, our local newspaper, The Richmond Times Dispatch, ran a series of articles dealing with readers' answers to the question: "What was the last normal thing you did before the pandemic hit?" This started me thinking, and I remembered the last thing I and many members of the Folk Art Society also did – we took part in the 2020 Outsider Art Fair in New York, January 16-19, at the Metropolitan Pavilion.
I thought back to the old days, 25 years ago, when the Fair was held in the ramshackle old Puck Building, with its added-on rooms, uneven floors, poor lighting, and I thought of the Andrew Edlin's modern version with beautiful spaces, great lighting, spacious surroundings. But we had fun in both venues – seeing and visiting with old friends, dealers, artists, museum personnel, and members of the Folk Art Society.
2021 brought a different version of the Outsider Art Fair, with virtual viewings and a few actual gallery exhibitions with reservations and restrictions. Carol Millsom documents this year's Fair, and it proved to be successful and enjoyable, according to all reports. Life did, indeed, go on.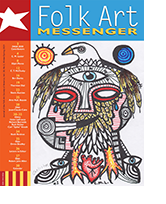 In July 2020, the Folk Art Messenger published a special Corona Issue, #100, which was illustrated on the cover with a sculpture of Santa Corona by Arthur Lopez. Margaret Day Allen had the idea of contacting artists around the country for their descriptions of how they were dealing with the situation, and we had responses from 45 artists who expressed various views and interpretations. We were happy to get input from so many artists.
In January 2021, Folk Art Messenger #102 featured the art and story of Kentucky artist Charles M. Laster, and that issue generated more back issue requests and new member applications that any previous one! Charles Laster has a huge fan base, and we were happy to note this exceptional response.
In February 2021, we added two members to the Board of Directors of the Folk Art Society: Vernon and Yvonne Carter from Fredericksburg, Va. Longtime collectors of folk art, they co-authored the book, A Man Inspired by God: The Art, Music and Ministry of Elder Anderson Johnson, and they have been big supporters of Johnson's museum at the Downing-Gross Cultural Arts Center in Newport News, Va. Yvonne Carter is a writer, publisher, and editor with a Master's degree in Journalism and a PhD in English from Howard University. Vernon Carter in an acquisition analyst and photographer, who has an Associate Degree in Photography and Fine Arts, a Bachelor's degree in Gallery and Museum Acquisition Management, and a Master's degree in Government Contracts from George Mason University. We believe they will make wonderful and helpful additions to the FASA Board.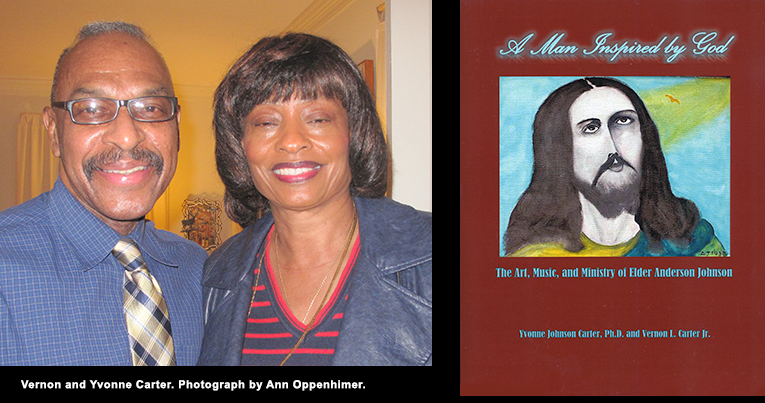 Meanwhile, we will look forward to the time when almost everyone will have received their vaccinations; schools will reopen; museums, businesses, restaurants and bars will fully be back in business; and we can begin to plan another Folk Art Society conference with speakers, auctions, exhibitions, social events, and visits to museums and private collections. That day will come, and we will be thankful we have stayed safe and strong for the past long year.