This has been a strange year and a strange summer, with COVID, climate change and political unrest, but the Folk Art Messenger has been coming along nicely, in spite of it all. We are enjoying the present and looking forward the future.
At the present, we are appreciative and thankful for all the gifted writers who have expressed their views and expanded our knowledge in this 104th issue of the Folk Art Messenger. Margaret Day Allen has been especially busy – writing four articles this time. It's wonderful to have such an accomplished writer and journalist as part of our group!
Praise is also due to Kathy Johnson Bowles, Carol Millsom and Jim Sellman, who are always so willing and able to produce timely articles that keep us up to date on significant happenings in the folk art world. Unfortunately, I am sorry to report that we have six obituaries of important artists and/or personages in the folk art world. We are richer for their memories.
Here in Richmond, our thoughts have been consumed with the acclaimed exhibition that just concluded at the Virginia Museum of Fine Arts, The Dirty South: Contemporary Art, Material Culture, and the Sonic Impulse. Although not entirely sure of what "The Dirty South" actually means, we have a better understanding of it now after multiple viewings. This exhibition will travel to three other venues: Houston, Bentonville and Denver, and you can read about it in this issue.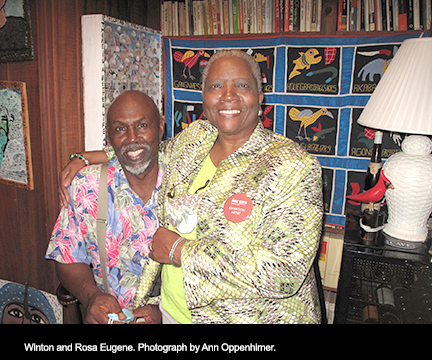 For us personally, one of the happy outcomes of the exhibition was the opportunity to make the acquaintance of two outstanding artists whose ceramic work we have admired for several years – Rosa and Winton Eugene from Cowpens, S.C. As exhibiting artists in The Dirty South, the Eugenes traveled from Cowpens (an eight-hour drive) for two separate events at the Virginia Museum, and we were privileged to spend some time with them. They are planning to attend the Folk Art Society's conference next year, and it will be a treat to introduce them to FASA members.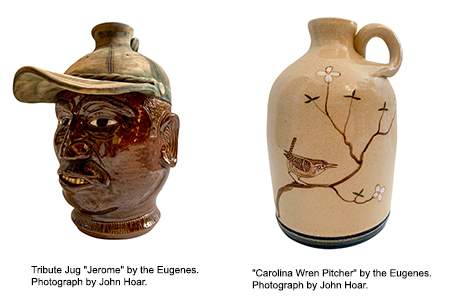 As for the future – that brings me to another important topic – the 33rd annual conference of the Folk Art Society of America, which is scheduled for October 20-23, 2022, in Charleston, S.C. – so make a note of it now! Our co-chairmen Terri Johnson and Alex Patrick have been hard at work for several months, lining up the conference hotel, symposium speakers, visits to collectors homes, visits to museums and galleries, selecting restaurants, and taking care of the myriad other details that make the FASA conferences so spectacular.
The conference hotel will be the Francis Marion, a famous Charleston landmark property that has all the amenities we require – a downtown location, several ballrooms, wonderful food, and lovely spaces. The conference brochure, with all the details, will be coming out in April, and you will be able to make your reservations then.
We think everyone will be ready to get together again in the beautiful city of Charleston and enjoy being with their folk art friends after an absence that has been way too long. We look forward to seeing everyone again, and we will celebrate in style!