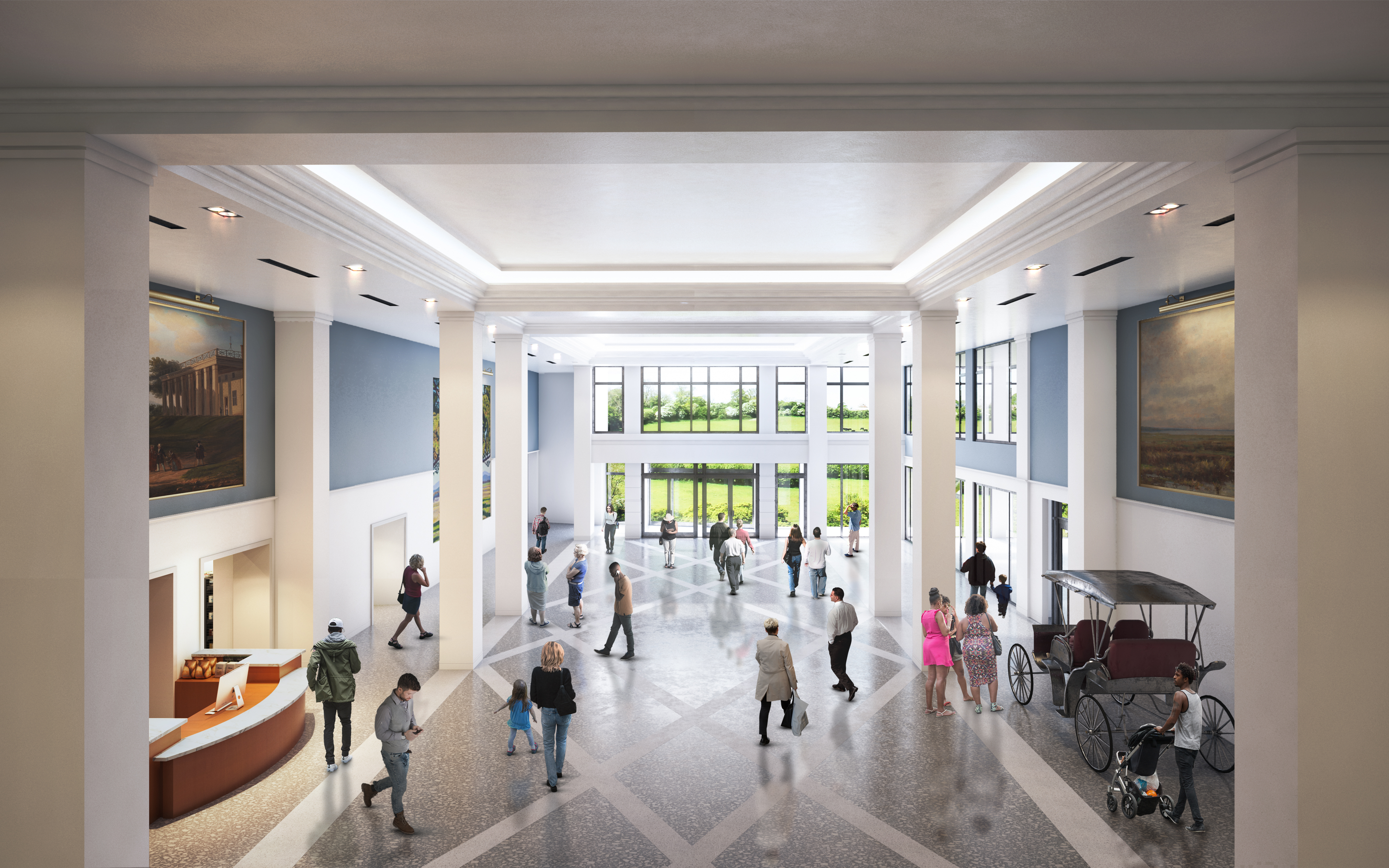 The Great Hall at the VMHC, photo courtesy of the Virginia Museum of History and Culture.
Once again, we thank our talented writers and photographers — Margaret Day Allen, Kathy Johnson Bowles, Tina Cox, Jo Farb Hernández, Carol Millsom and Fred Scruton. They make the Folk Art Messenger come alive with their interesting and informative writing. We could not do it without you!
The Calendar of Exhibitions lists the new schedules of exhibits and events, some of which are still not quite certain, but at last, more museums and galleries are returning to normal schedules. Please check the venues before making a trip. We are looking forward to the Outsider Art Fair, now rescheduled for March 6 in the Metropolitan Pavilion, 125 West 18th Street, New York, N.Y. Note that proof of vaccination and masks will be required.
On a more local note, I would like to make everyone aware of recent developments at the Virginia Museum of History and Culture (VMHC), formerly the Virginia Historical Society, in Richmond. As you may remember, when the Folk Art Society was required to move its office from Longwood University in 2016, the Historical Society took in the FASA archives, more than 60 banker boxes of material, which they have stored and maintained for us ever since.
The addition of "Culture" to the museum's name is important as it signifies a change from an emphasis on the strictly historical to a broader definition of what the museum is and promises to be. With a new name and an extensive physical renovation, the Virginia Museum of History and Culture has opened its doors to the collection of American folk art. This is an entirely new direction from the museum's original exhibition and collection initiatives. At first, the emphasis was for the collection of folk art only produced by or connected to the art and artists of Virginia. Now, after careful consideration, debate, and the unanimous approval of the Board of Trustees, the museum has committed to include the folk art and artists of North Carolina, South Carolina, West Virginia, Kentucky, Tennessee, Mississippi, Georgia and Alabama.
Jamie Bosket, President and CEO of the Virginia Museum of History and Culture, wrote: "At this crucial moment in our push to better represent all Virginia and all Virginians, and to expand our offerings in fulfillment of our new name and identity, this landmark addition to our holdings will be of lasting consequence." Bosket says that he envisions a national identity for the VMHC, and that he plans traveling exhibitions and exchanges with other institutions, not only in Virginia, but throughout the U. S.
The total renovation of the museum has resulted in a huge, expanded entrance hall, a large gift shop, a much-needed café, 50% more gallery space, expanded library, special collections space, and state-of-the-art video and projected visuals throughout. In a word, the museum has been totally transformed into an innovative museum of the future.
In the past several years, museums all over the country have been opening their galleries and their collections to folk art, outsider art and self-taught art. I attribute this transformation to the influence of the Souls Grown Deep Foundation, which began with the Metropolitan Museum of Art's significant acquisition from Bill Arnett's collection. Since that time, more than 30 museums have acquired works from Souls Grown Deep by gift/purchase agreements, and this has become a national trend. The Virginia Museum of Fine Arts participated with their acquisition of 34 works of art from the Souls Grown Deep Foundation, as well as its recent exhibition, The Dirty South, which contained many significant examples of self-taught art. The Virginia Museum of History and Culture is continuing in this important direction through its initiation of a folk art collection.
The VMHC will open with a preview on May 6 and continue with a week-long celebration of gala events, exhibition openings and special events for members, culminating in a grand opening for the general public on May 14, 2022.
We, personally, as well as the Folk Art Society, are heavily involved in this wonderful opportunity to support the advancement of American Folk Art in Virginia as well as the states of the Mid-Atlantic South. We will keep our members informed as these developments materialize, and we hope that you will be able to participate and support these crucial endeavors.
In summary, the Virginia Historical Society, founded in 1831, preserves such artifacts as George Washington's personal diary, and now, also will be able to display in the renamed and renovated Virginia Museum of History and Culture a portrait of George Washington by folk artist Anderson Johnson.