Roger Lee Ivens, better known to the art world as Ab the Flagman, died unexpectedly in November 2022. At the time, he was living in Gibsonville, N.C., in a home owned by Matt Ledbetter, owner of Ledbetter's Folk Art Auctions, who discovered his body on November 18th. An autopsy is being conducted, although heart disease is the likely cause.
Ab was born on July 9, 1964, in Chattanooga, Tenn. His father, who served in the Navy many years and then worked for Lockheed, died when Ab was only seven years old. Ab said that he was greatly impacted by the American flag that draped his father's coffin.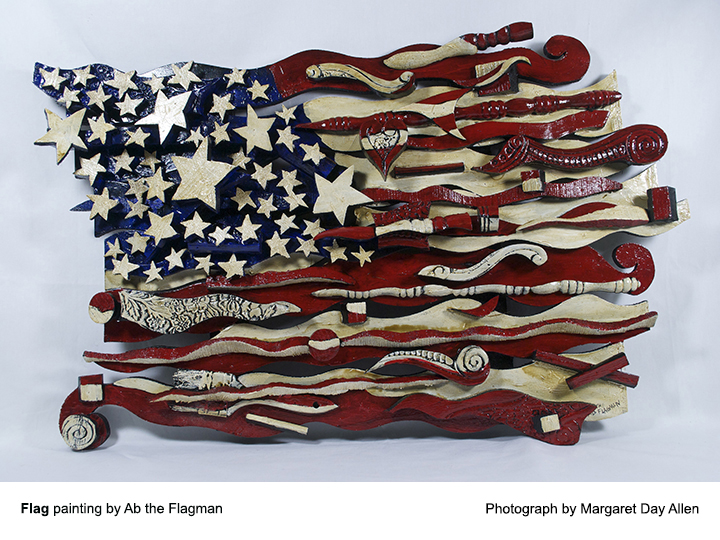 After his father died, his mother moved with him to Atlanta, where she worked as a waitress and food manager. "I had three or four stepdads, but none of them ever lasted that long," he said.
Ab acquired his unusual nickname when a schoolmate started calling him "Abstract" for asking a question about abstract art. But Ab shortened the nickname and turned it into an asset. Although his artistic talents were recognized early in life, he could not afford college, so at age 17 he went to work as a carpenter. He was also performing music, touring with several bands and recording a few albums. However, his dreams of becoming a music star did not materialize, so he focused on learning the finer points of woodworking. For several years, he studied symbology, sacred geometry and hidden history with his mentor Randall Carson. Although Carlson was a grand master of a Masonic Lodge, Ab never became a Mason.
Ab made his first flag out of wood scraps. A customer saw it and offered to buy it. Soon, Ab was making American flags and selling them on the street in Atlanta. By the mid-1990s, he was a full-time visual artist. Ab's artworks were not just scraps thrown together – he spent a lot of time constructing them. His art consisted of pieces of wood that he cut and assembled to form a picture, which he then glued and nailed together. After he finished the construction, he painted it, using several coats of paint get the desired effect. Usually he applied a clear finish over the acrylic paint as he prepared each piece for hanging.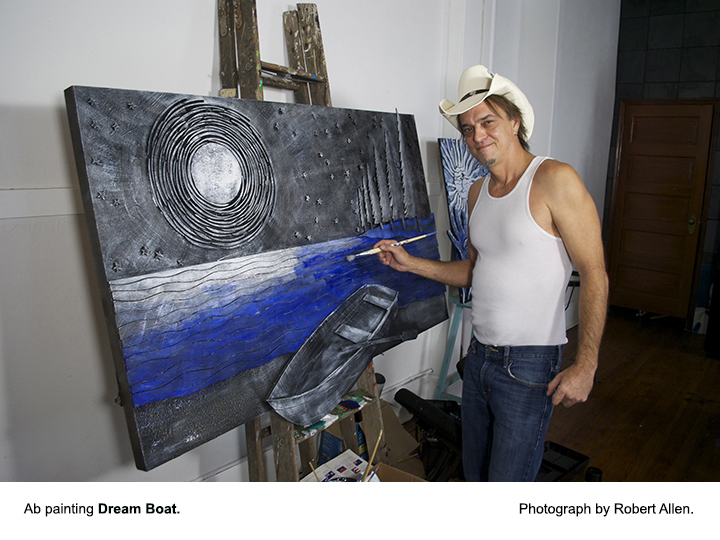 Over time, he began making other types of art from wood, depicting cityscapes, eagles, and Native American themes, as well as scenes of boats and rivers. Ab said he had some Native American heritage, which influenced his art.
His work was widely exhibited and collected. Although he always felt patriotic, he began to believe that, in a way, flags represented nationalism, which can divide people. Still, the American flag remained his most popular item, and "Flagman" became part of his name. He donated one of the last pieces he made, an image of a guitar with two hands playing, to the 2022 Folk Art Society of America's recent auction.
Ab the Flagman always liked to dream big. He said: "If there's an art show on Mars, I want to be in it. I may not be around, but there will be an art show on Mars one day." Maybe someday that wish will be fulfilled.