In 2003, my husband and I were privileged to meet Winfred Rembert when the Hand Work Shop (now the Visual Arts Center of Richmond), held a one-person exhibition for him. He attended the opening and a party in his honor afterwards at our home. We were not familiar with his art work then, but we were captivated by his gift of words and remarkable personality.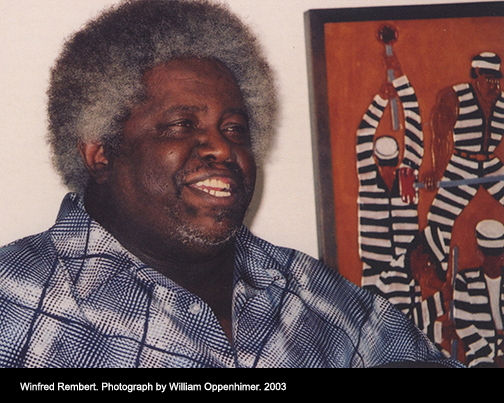 In an article in the Folk Art Messenger #59, we wrote our first impressions of Winfred:
With the confidence of a practiced storyteller, Winfred Rembert turned on a faucet of words, and they poured over us. Squeezed into a wooden armchair much too small for his enormous bulk, Rembert was enthusiastic about relating the details of his early life to two strangers.

His story, like those of many African-American self-taught artists from the rural South, begins with disinheritance ("My mother gave me away when I was three months old."), poverty ("Not having anything, no Christmas, no money."), lack of education ("I didn't have a learning disability, I just didn't get it."), discrimination ("Mama was afraid of white people."), violence and a lot of anger ("But I'm past all that now.")
Born in Americus, Ga., on November 22, 1945, Rembert lived through childhood work as a field hand in the cotton fields, a near-lynching, seven years as a prisoner on a chain gang, marriage to the teenager he met while incarcerated, raising eight children, making art by carving and painting pictures on leather, and becoming an important and recognized artist, whose life story has been told in several books.
His paintings depict his life – cotton picking, the chain gang, pool halls, juke joints, baseball games, church meetings, dances – and his lively, colorful work has brought him fame and fortune. In 2010, when represented by the Adelson Galleries in New York, his paintings brought as much as $35,000 and later one of his chain-gang paintings sold for close to $80,000.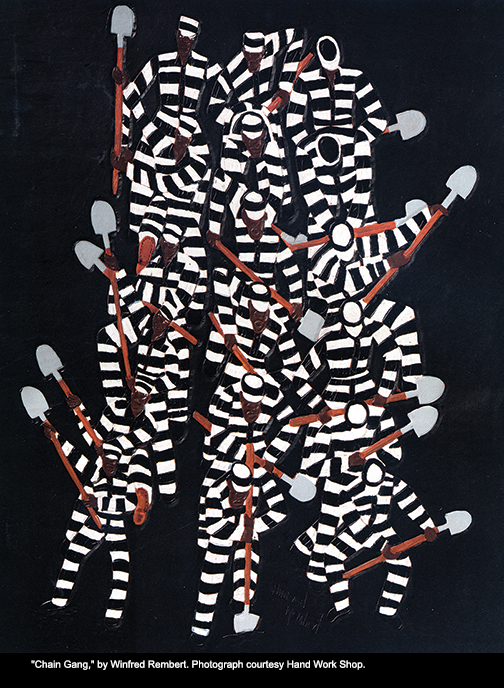 In 1987, Rembert and his wife moved to New Haven, Conn., where he eventually became an artist-in-residence at Yale, teaching students about his life and struggles. In 2015, the New Haven Museum featured an exhibition of 25 of his paintings in "Winfred Rembert: Amazing Grace," and a catalogue of the same name was published. Also included was a short documentary, "All of Me: The Life and Times of Winfred Rembert."
Rembert's autobiography, "Chasing Me to My Grave: An Artist's Memoir of the Jim Crow South," as told to Erin I. Kelly, was published in September and is available on Amazon for $23.99. Also available is "Don't Hold Me Back," a children's book by Rembert and Nikki Giovanni, 2003, and "Memories of My Youth," 2010, from Adelson Galleries. His obituary was published in both The New Yorker and The New York Times, both with many pages and many color photographs.
Winfred Rembert, 75, died in New Haven on March 31, 2021, of complications of diabetes, kidney failure and hypertension. He is survived by his wife, Patsy Gammage Rembert, seven children, and 17 grandchildren. One son predeceased him. The vivid pictures of his life, in paint as well as words, will live on.