Headline News!!! The Paradise Garden Project to restore and preserve Howard Finster's culmanating achievement was recently awarded a $445,000 grant for Paradise Garden's restoration from ArtPlace America
Those of you who attended the Folk Art Society of America's conference in Richmond, Va., last year were asked by me (more than once) to contribute to a matching fund in order to secure a grant to enable Chattooga County, Ga., to purchase Paradise Garden, Howard Finster's world famous folk art environment close to Summerville, Ga. With the generous contributions of the Folk Art Society and its members along with other donors, and under the guidance of Jason Winters, sole commissioner of Chattooga County, Ga., along with James Thompson and Leamon R. Scott from the Appalachian Regional Commission (ARC), Chattooga County was able to receive this matched grant from the ARC and purchase Paradise Garden.
One of the requirements of this grant was that a site study and management plan be completed for Paradise Garden. Chosen for this monumental task was the well-qualified Atlanta architect firm of Lord, Aeck & Sargent, and Jack Pyburn was chosen to spearhead this effort. The project team was comprised of Lord, Aeck & Sargent (Historic Preservation Planning and Architecture), The Jaeger Company (Historic Landscape Architecture & Planning), National Trust for Historic Preservation (Heritage Tourism Program), the late Tony Rajer, (a folk art conservator), and Tom Patterson (Finster biographer). Special acknowledgement for assistance to the preparation of this plan was given to Tommy Littleton (past owner of Paradise Garden), Susan Crawley (Curator of Folk Art, High Museum of Art) and myself (Finster friend and collector).
The submitted final plan, one-and-a-half inches thick, is an excellent guide for renovation and sustaining the irreplaceable environment that showcased the life and work of Howard Finster, one of the most significant American artists of the 20th century. The next step was finding the money to carry out this massive undertaking and then to organize and coordinate the work.
At a critical moment when the purchase of Paradise Garden was being completed, into the picture stepped one of the most important "angels" to ever visit the garden, Janet Byington, a force to be reckoned with if ever there was one! The phrase "not possible" to her is like waving a red cape in front of an angry bull. Pairing that passion with the skill of diplomacy and the determination to get the job done is a rare talent indeed. She has many of the same traits that Finster possessed. She is not afraid of recycling most everything, working hard and paying great attention to detail.
One of the first jobs after the site purchase was to form the Paradise Garden Foundation Board of Directors and to hire an executive director. The current board members are Susan Connelly, Gena Briley Agnew, Grey Winstead, Whitney Nave Jones, Janet Farrar Byington (Chair), Larry Schlachter, John Turner, Sylvia Lee Keziah, Atteka Abdou and Fran Myers. The executive director is Jordan Poole, who has a master's degree in historic preservation and an impressive resumé that includes having been manager of restoration at George Washington's Mount Vernon in Virginia and manager of field services for the Georgia Trust for Historic Preservation in Atlanta.
This group certainly has its work cut out for them. It will not be easy to drag Paradise Garden back out of the swamp that has been determined to reclaim it since that momentous day in 1961 when Finster decided this was the place to build his garden of paradise while he was visiting "earth's planet." To make this site stable and secure for the visiting general public is a herculean challenge. And, the work will certainly not be cheap!
The foundation recently received the first grant that they pursued, and that grant amount was $445,000! Yes, that number is correct! The grant was awarded to Chattooga County for the Paradise Garden Project from ArtPlace America. ArtPlace is a collaboration of 11 major foundations, six of the nation's largest banks and eight federal agencies, including the National Endowment for the Arts, whose aim is "to accelerate creative placemaking across the U.S."
The foundations include The Ford Foundation, The James Irvine Foundation, The Andrew W. Mellon Foundation and The Rockefeller Foundation, just to name a few. Out of 2,200 applications nationwide, ArtPlace awarded 47 grants. Paradise Garden was one of only eight grants given to rural projects. Considering that the maximum award amount was $500,000, this was a large amount indeed. It is also amusing that some of these monies came from the National Endowment for the Arts, as this was the only grant funding that Finster was able to secure while he was alive. That original grant was given in 1982 and the amount was $5,000. Part of this NEA money was spent to purchase Finster's World's Folk Art Church. Imagine what Finster would have done with $445,000!
While we all recognize that unfortunately this grant will not be sufficient to fully renovate Paradise Garden today, it certainly will go a long way to stabilize the site. As was pointed out in the study, water is the biggest problem at the moment. Small tracts of adjoining property have been purchased from two Finster family members to create water retention areas and to provide bus and automobile parking, per site plan recommendations. Stabilization of the buildings and curatorial assessment are also major challenges yet to be faced. An advisory board to assist the Paradise Garden Foundation Board is currently being formed to help with those challenges and other decisions in planning for the future of the Garden.
The representatives of Chattooga County hope that this revitalization of Paradise Garden will serve as the beginning of cultural tourism as an economic stimulus for this area, recently listed as the poorest county in Georgia. Paradise Garden is still, visually and historically, a rich place indeed. Still alive with the spirit and essence of Howard Finster, it is well worth visiting or revisiting, for that matter. A visitor cannot help but feel Finster's presence while walking along the inlaid walkways, viewing the complex sculptural "mountains," Finster's famous bicycle tower or the World's Folk Art Church.
These and thousands of other fantastic artworks speak to the creative genius and loving force that was Howard Finster. He and his messages will live on through his art works scattered all over the world, but Paradise Garden is where it all started.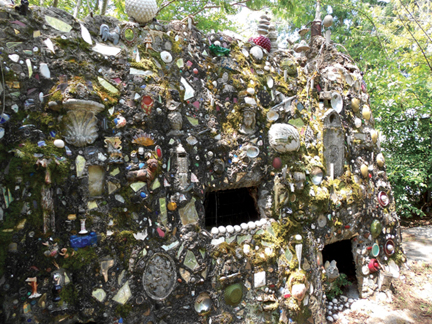 ---
If you would like to get involved please visit www.paradisegardenfoundation.org; call Jordan Poole @678-641-8700; or write The Paradise Garden Foundation, 200 N. Lewis St., Summerville, GA 30747. To track the progress of this site you can e-mail Jordan Poole at jordanpoole@gmail.com.