All photographs courtesy Tate Britain
The Tate Britain Museum in London mounted a break-through exhibition of British folk art, which was on view June 10 through August 31, 2014. British Folk Art is the first exhibition in a major mainstream English museum of the neglected patrimony of Britain's history and of its homegrown art tradition by the self-taught, non-academic artists working between the late 17th and mid-20th centuries.
At the time that American itinerant limners were preserving a people's history of the common man with portraits of farmers, merchants, military men, men of the cloth and their wives and children (and even an occasional mother-in-law), English limners were also traveling the country-side circuits. The prime subjects of these portraits, however, were prize livestock and horses. English gentry weren't inclined to employ amateurs when they could have their likenesses painted by trained portraitists. And those were not hard to find in a country where distances between towns were small and established art training was readily available. Since Americans didn't quite share that option, they commissioned much more folk art and cared for it. This was fortunate for folk art in early America.
Much of the British folk art that has survived is preserved in the collections at Compton Verney in Warwickshire, which houses the Andras Kalman collection, and Kettle's Yard in Cambridge that houses Jim Ede's collection of paintings by Alfred Wallis. They, along with other small museums and academic institutions throughout Britain, have lent examples of surviving folk art to the Tate for this exhibition. In fact, as curator Martin Myrone clarified, all the exhibited works were deliberately chosen from those in already established museums, galleries and academic or private collections.
The Tate exhibition includes paintings of landscapes, towns, seascapes, and events, ranging from a bucolic country fete to a ratcatcher contest. There are multiple examples by three outstanding artists: George Smart, Mary Linwood and Alfred Wallis. Also included are trade signs, quilts, needlework, pottery, distorted leather Toby jugs, "God in a bottle" (religious symbols were inserted instead of whimseys or boats), figureheads, whirligigs, straw work and more.
The British had a seafaring culture that often involved lengthy stints at sea leading to long periods of boredom punctuated by moments of terror. The boredom encouraged handwork resulting in crafted gifts of bone carvings, ornate pincushions and woolwork scenes. These scenes were embroidered likenesses of the boats they sailed using the skills acquired stitching sails and uniforms. The exhibition catalogue provides historical details in all of these categories.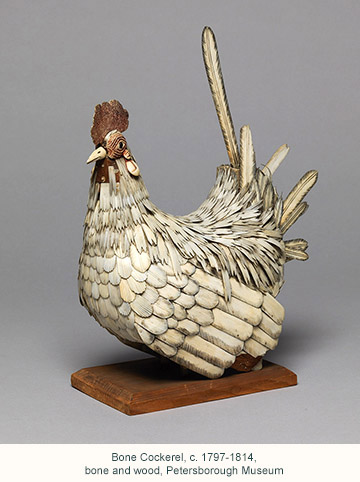 Artist/curator Jeff McMillan states: "This is ultimately an exhibition of strange and exquisite objects created mostly by unknowns." Certainly the horse vertebra with painted preacher, John Wesley, fits that classification. The life-size rooster made of carved bones by French POWs in England in the Napoleonic era is another strange and strangely beautiful sculpture. One interpretation has it that the carving of this typically French symbol was an act of defiance.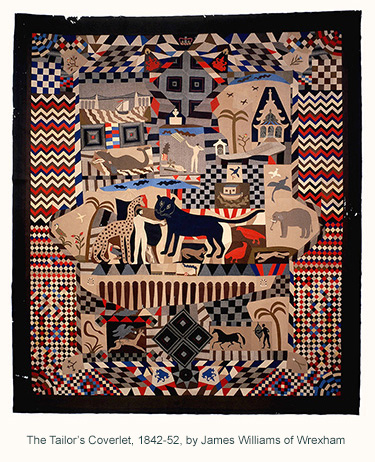 The wild patchwork, Tailor's Coverlet (1818) in "dazzle" pattern combines biblical scenes and British symbols with recent engineering projects. Its maker, tailor James Williams of Wrexham, is one of the few known artists. Another intricate quilt was stitched by soldiers wounded in the Crimean War, demonstrating how an occupational therapy project (or a distraction from gambling) could produce an admirable artwork. It also illustrates how the traditional gender assignment of stitchery was overturned in England.
The watercolor portrait of Admiral Lord Exmouth (1757-1833), which looks like a version of the captain of the HMS Pinafore, is a valuable historic and biographical documentation of a successful seaman who went to sea at 13 years of age. It is less sophisticated in execution than most of the paintings that have survived, making it a stronger contender for a folk art designation with significant visual impact.
The three featured artists are impressive in their own right. George Smart (1775-1845) of Frant, another tailor, painted bold, graphic figures based on local characters. He pasted fabric scraps onto prints of towns and landscapes in his multiple versions of Goose Woman, and of Old Bright, the Postman ©.1830). He sold them at a nearby spa.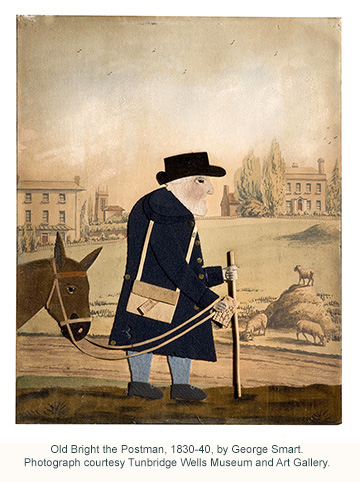 Mary Linwood (1755–1845), a popular artist in her time, embroidered enormous recreations of old masters (e.g., Whistler's Mother) and managed to give them a startling alternative life.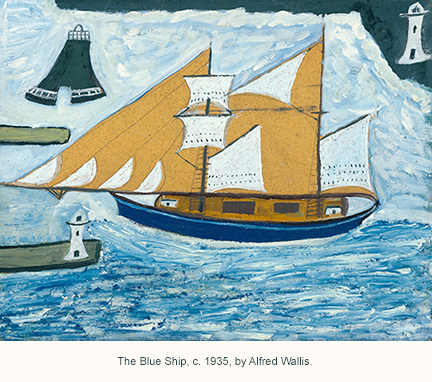 Alfred Wallis, (1855–1942) is one of the greatest of all self-taught artists. He began painting in his 70s "for company," he said. He was working as a fisherman and marine supplier in St. Ives when artist Ben Nicholson, then a modernist (in the 1920s), happened upon his work. He and other modernists, including Jim Ede, became ardent admirers of Wallis, so much so that Nicholson converted the way he painted landscapes to a more naive style. Wallis's dizzying, atmospheric depictions of the sea turbulence (on mostly odd-shaped cardboard) convey, in breathtaking style, the powerful forces of water and man's fragile relationship to it.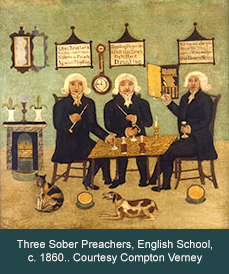 What can be seen as "British" in this folk art is humor and a linear style. English humor, which is prevalent in literature, theater and in the fine art of Hogarth and others, manifests itself in folk depictions of hugely overfed livestock and witty caricatures as in The Three Sober Preachers. The linear style of outline rather than three-dimensional substance harks back to Celtic design, Psalter illuminations and William Blake. Renaissance innovations came late; British artists were still working in linear, flattened-perspective medieval styles into the 1600s. These qualities can be observed in many folk paintings. Religious folk art is much rarer than in other countries. Visual narrative vignettes abound.
In general, there is a paucity of all forms of folk art in England, and many reasons for it. There was no long tradition of indigenous design passed down through the generations as was the case in many European countries (such as Rosemaling in Norway). Thus, there was less cohesion and local pride in regional artisans. Also, crafts were supplanted by machine-made products earlier than in other countries since England was the first country where the industrial revolution caused a momentous change beginning in the mid-1700s.
Because the lack of strong traditions and a preference for newly machined work prevailed, low value was placed on folk arts, and not much of it was cherished and collected. Andras Kalman noted that the portraits were probably considered clumsy and thrown out by the heirs who wanted their ancestors to look "good," not ugly. They preferred their likenesses to be anatomically accurate. Country-crafted furniture was lost in many fires, damaged by termites, broken and often not repaired. Other folk crafts and paintings were discarded as the 19th-century style moved away from the opulently decorated Victorian era.
In an interview in the 1990s, Kalman noted that "Art critics in England were still steeped in a Euro view of art, and snobbery toward folk art still existed. Most of the art historians and press considered folk art of fringe interest as they had once done with tribal art. In America, there are many good dealers and collections that were cared for, but in England, colossal numbers of things have not survived. "
The Tate Britain's exhibition took a step toward elevating the status of this neglected field of British art by raising awareness of it. The exhibition educated the British to their own valuable visual history and patrimony. These snapshots in time enlighten with their narratives and telling details. The aesthetic qualities of directness and ingenuity unadulterated by pre-conceived notions of success in the art world survive in the folk art that still exists. British Folk Art informs viewers of another area of art of which the British can be proud.
The exhibition will be on view at Compton Verney, Warwickshire, England, from September 22 to December 14, 2014. A catalogue of the exhibition is available from Tate Britain, Millbank, London SW1P 4RG, U.K.