We've been thinking about the fact that the Folk Art Messenger has been the recorder of the history of folk and self-taught art for the past 36 years. In 1987, with the first small, six-page, black-and-white foldout, we began covering the events, the artists, the places and the people that were really just beginning to be noticed, documented, and written about.
The Folk Art Messenger soon grew to 12 pages, then to 20, and finally to 40 pages, and with the addition of full color, it became a magazine – a journal with no advertising that was supported solely by membership contributions. The stories of the artists with illustrations of their work was our main focus. Our goal has always been to promote knowledge – to let our readers know about exhibitions, symposia, and conferences, to discuss books and catalogues, and to keep people interested and informed. Our goal was to expose art and artists from around the whole United States, as well as other countries.
Several issues were devoted to those special people who had left their mark on the field of folk, self-taught and outsider art, but who were no longer with us. We had special tributes to Herbert Waide Hemphill Jr., Howard Finster, Nek Chand, and more recently, Roger Cardinal. Sadly, many of the artists we loved and appreciated have passed on, but a new generation is continuing to evolve with the use of Facebook and the Internet to promote and market their work. Times are changing, but people like Fred Scruton are still making personal contact and continuing friendships with the artists.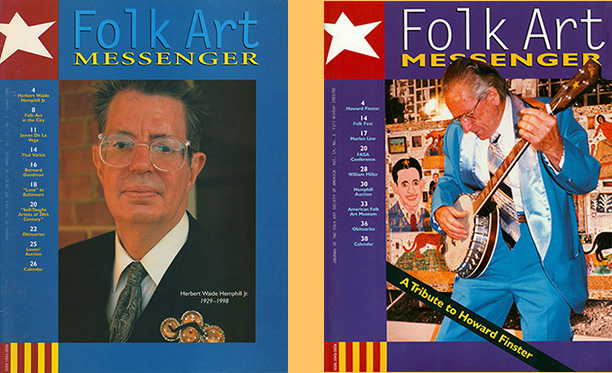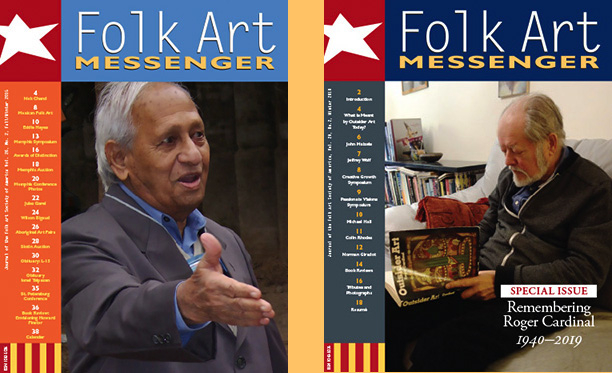 Keeping this tradition of preserving history, this Folk Art Messenger, #109, continues with the same principle – to record and document important events as they happen. Fred Scruton has written about and photographed Bernard Gore, an artist previously not known to many. We also have detailed reports of four exciting exhibitions from Cincinnati, Atlanta, Memphis, and Brazil (by the way of New York!) – and we are grateful to the talented and dedicated writers who tell these stories. We have reviews of catalogues of two important exhibitions – one at the Smithsonian American Art Museum in Washington and one in London at the Royal Academy of Arts. These exhibitions are finished, but we can still learn and reflect on them. We always include a list of events throughout the U.S. and overseas in our Calendar of Exhibitions, and this Calendar is a history in itself. Again, we have included the brochure of the Richmond Conference, scheduled for October 26-29, 2023, and we hope you plan to come and enjoy seeing good friends and good art.
If you kept your old issues of the Messenger, you will be able to remember the historical events they contain. Most of the back issues are still available and can be ordered. Someday, we may make selected parts into a book, but that's another story!